Aproximación a la biografía de dos juristas "gallegos" del siglo XVI, nominados "Pedro Vélez de Guevara"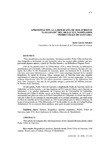 View/Open
Collections
Title
Aproximación a la biografía de dos juristas "gallegos" del siglo XVI, nominados "Pedro Vélez de Guevara"
Author(s)
Date
2006
Citation
Anuario da Facultade de Dereito da Universidade da Coruña, 2006, 10: 471-536 ISSN: 1138-039X
Abstract
[Resumen] "Nos encontramos con dos canonistas, del mismo nombre: Pedro Vélez de Guevara, cuya biografía es inexistente en este momento, salvo los escasos datos aislados que proporcionan algunos autores, a partir de Nicolás Antonio y su Bibliotheca Hispana Nova. Uno de los juristas nació en Toledo hacia 1529 y cursó Derecho en Salamanca, graduándose por el Estudio vallisoletano como licenciado en Cánones; fue hijo del consejero de Carlos V, Dr. Hernando de Guevara, quien era hermano de fr. Antonio de Guevara, episcopus Mindoniensis, y desde 1571 como canónigo doctoral de la catedral hispalense. Es autor de diversas obras, aunque para el Derecho tiene una singular importancia el volumen, impreso en Salamanca, año 1569, con tres opúsculos: Ad legem primam Digestorum, libri VI; De officio praesidis commentarii y De diffinitione doli mali, liber singularis. Fue uno de los grandes amigos y protector del biblista extremeño Benito Arias Montano. El otro jurista, Pedro Vélez de Guevara o simplemente Pedro de Guevara, nació en Valladolid, en fecha incierta, y era hijo ilegítimo del II Conde de Oñate; cursó Derecho en Salamanca y se graduó igualmente de Cánones por la Universidad de Valladolid. Nombrado por Felipe II alcalde mayor en la Real Audiencia de Galicia, en 1572 pasó a desempeñar una plaza de oidor en la Real Chancillería de Valladolid, de donde fue promovido por Felipe II a la canonjía de maestrescuela en la catedral salmantina, que tenía anejo el oficio de canciller de la Universidad; en 1583 es presentado para la Mitra civitatense, de la que tomó posesión en 1584, falleciendo el 27 de diciembre de ese año en Ciudad Rodrigo (Salamanca). No se conocen obras jurídicas, pero gozó de gran reconocimiento".
[Abstract] This article investigates the vital trajectories of two Spanish famous jurists called Pedro Vélez de Guevara.
Keywords
Síntesis biográfica
Juristas españoles
Pedro Vélez de Guevara
Siglo XVI
Real Audiencia de Galicia
Diócesis de Mondoñedo
Biographical summary
Spanish iurists
Pedro Vélez de Guevara
16th century
Royal court of Galicia
Diocese of Mondoñedo
ISSN
1138-039X