Estudo da rugosidade superficial do solo para diferentes tipos de coberturas e sistemas de manejo do solo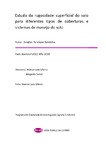 Title
Estudo da rugosidade superficial do solo para diferentes tipos de coberturas e sistemas de manejo do solo
Alternative Title(s)
Estudio de la rugosidad superficial do solo bajo diferentes coberturas y sistemas de manejo del suelo
Author(s)
Directors
Lado, Marcos
Bertol, Ildegardis

Date
2019
Abstract
[Resumo] A rugosidade superficial do solo possui importância nos processos erosivos, principalmente em áreas agrícolas, pois está diretamente relacionado com a geração ou redução do escoamento superficial o que, por sua vez, pode ocasionar o transporte dos sedimentos e a redução da fertilidade do solo na camada superficial. Existem vários métodos utilizadas para a medição da rugosidade superficial do microrrelevo do solo. Além disso, os componentes verticais e horizontais da microtopografia do solo têm sido caracterizados por diferentes metodologias. Assim, o índice de rugosidade aleatória, RR, é o índice mais utilizado para representar a componente vertical da microtopografia do solo, no entanto, para efeitos de modelagem do microrrelevo, é importante levar em consideração o efeito da posição espacial desse microrrelevo. Por essa razão, a geoestatística e a análise multifractal também foram aplicadas. O objetivo geral desse trabalho foi determinar valores de rugosidade, por meio de dois métodos distintos, e de outros atributos da superfície do solo, em sistemas de preparo de solo e condições de superfície e relacioná-los à capacidade de armazenamento de água no microrrelevo e à erosão hídrica. O trabalho foi separado por etapas. A primeira etapa foi dedicada à comparação de métodos, em bandejas de laboratório e em parcelas de campo, de dois métodos não invasivos do solo, considerando a sua precisão, erros na estimativa dos valores, número de leituras por unidade de área e tempo de obtenção das medidas. Ainda, para promover a alteração do microrrelevo e a capacidade de cada método em detectar essas alterações, foram aplicados testes de chuva simulada, de intensidade de 63 mm h-1, nas parcelas de estudo, com dimensões de 1 m2. Em laboratório utilizou-se um único tipo de solo. Em campo, além do monitoramento da rugosidade superficial, a erosão hídrica também foi quantificada, utilizando solos com texturas distintas, comuns na região da Galícia, Espanha, local da pesquisa. Os valores de RR variaram entre 14,23 e 38,02 mm, similares aos encontrados na literatura para a mesma condição de preparo do solo. A rugosidade superficial apresentou alta dependência espacial, tanto em superfícies preparadas em laboratório, como no campo. Em laboratório, o efeito da chuva simulada foi mais nítido em superfícies com alta rugosidade. A técnica da fotogrametria se demonstrou mais efetiva em todos os critérios considerados, em relação ao rugosímetro a laser, sendo mais indicado para descrever o efeito acumulativo da chuva sobre o microrrelevo. Na segunda etapa da pesquisa foi avaliada a rugosidade superficial do solo deixada por diferentes sistemas de preparo agrícola, e sua relação com a erosão hídrica em três condições de superfície do solo, sendo com cobertura por resíduos vegetais, sem cobertura por resíduos vegetais e a rugosidade superficial deixada pelo uso da tração animal, em parcelas de 1 m2 com três repetições cada. A erosão hídrica foi quantificada pela aplicação de uma série de três chuvas simuladas em cada parcela, também de intensidade de 63 mm h-1. Os valores de RR variaram entre 1,02 e 1,43, onde, em geral, ficaram abaixo dos valores encontrados na literatura para as mesmas condições de preparo. Os preparos do solo e as condições de cobertura estudados influenciaram nos atributos físicos do solo e nas perdas de solo e água. Em geral, a escarificação apresentou maiores valores de porosidade total, menor densidade aparente e, consequentemente, menores perdas de solo, ainda que em relação a rugosidade do solo, esse preparo tenha apresentado menor valor do que as superfícies preparadas com uma aração somente. Entre as condições de superfície, a cobertura superficial por resíduos vegetais apresentou valores expressivamente menores de perda de solo e água, em relação aos demais, confirmando a importância da proteção do solo na redução dos processos erosivos e manutenção das condições físicas do solo. Ao analisar a relação linear entre os diferentes índices de rugosidade, com a capacidade de armazenamento de água no solo, os índices multifractais Dq-30 e α max, relacionados com agregados de menores dimensões, o parâmetro de ajuste do semivariograma patamar e o RR apresentaram maiores valores, sendo que ambos podem ser utilizados para representar a rugosidade superficial, podendo ser aplicados em modelos de predição da erosão hídrica.
[Resumen] La rugosidad de la superficie del suelo es un factor importante para los procesos erosivos, especialmente en las áreas agrícolas, ya que está directamente relacionada con la generación y la intensidad de la escorrentía, lo que a su vez puede ocasionar el transporte de sedimentos y reducir la fertilidad del horizonte superficial del suelo. Se dispone de varios métodos para medir la rugosidad superficial del microrelieve del suelo. Además, para caracterizar los componentes vertical y horizontal de la microtopografía del suelo se emplean diferentes metodologías., En general, el índice de rugosidad aleatorio, RR, es el índice más utilizado para representar la componente vertical de la microtopografía, sin embargo, para modelar el microrrelieve, es importante tener en cuenta el efecto de la componente espacial del mismo. Por esta razón, también se calcularon índices basados en la geoestadística y el análisis multifractal. El objetivo general de esta tesis doctoral consistió en medir la rugosidad del suelo mediante dos métodos distintos, al tiempo que se determinaban otros atributos de la superficie del suelo en diferentes sistemas de labranza y condiciones de la superficie, relacionándolos con la capacidad de almacenamiento de agua en microdepresiones y con la erosión hídrica. El trabajo fue llevado a cabo en dos etapas. En la primera etapa se compararon dos métodos no invasivos de obtención de la microtopografía (fotogrametría y rugosimetro laser), en laboratorio y campo, considerando su precisión, errores en la estimación de valores, número de lecturas por unidad de área y tiempo empleado para obtención de las medidas. Además, para inducir la degradación del microrelieve y evaluar la capacidad de cada método para detectar la atenuación de las diferencias topográficas, se aplicaron sucesivos eventos de lluvia simulada con 63 mm h-1 de intensidad a parcelas de 1 m2 de superficie En el laboratorio se estudió un solo tipo de suelo. En campo se utilizaron suelos con texturas distintas, comunes en la región de Galicia, España, para determinar no solo la rugosidad de la superficie, sino también la erosión hídrica. Los valores de RR medidos durante esta etapa oscilaron entre 14,23 y 38,02 mm, siendo similares a los encontrados en la literatura para condiciones de labranza del suelo similares. La rugosidad superficial presentó una gran dependencia espacial, tanto en las superficies preparadas en laboratorio como en campo. En el laboratorio, el efecto de la lluvia simulada fue más importante en superficies con alta rugosidad. La técnica de fotogrametría fue más efectiva en todos los criterios considerados en relación al rugosímetro laser, siendo más indicada para describir el efecto acumulativo de la lluvia en el microrelieve. En la segunda etapa se evaluó la rugosidad de la superficie resultante del empleo de diferentes sistemas de labranza, y su relación con la erosión hídrica en tres condiciones de labranza y cubierta del suelo , tracción mecánica y residuos vegetales, tracción mecánica sin residuos vegetales y tracción animal, usando parcelas de 1 m2, y tres repeticiones en cada una de ellas. La erosión hídrica se cuantificó aplicando una secuencia de tres lluvias simuladas sucesivas en cada parcela, con una intensidad de 63 mm h-1. Los valores de RR variaron de 1.02 a 1.43 mm, de modo que están por debajo de los valores generalmente obtenidos en la literatura para condiciones similares de labranza. Las condiciones de labranza y cobertura de los suelos estudiados influyeron en los atributos físicos del mismo y en las pérdidas de suelo y agua. En general, la escarificación con tracción mecánica presentó valores más altos de porosidad total, menor densidad aparente y, en consecuencia, menores pérdidas de suelo, aunque en relación con la rugosidad del suelo, este tratamiento tuvo un valor más bajo que las superficies preparadas con un solo pase de arado. La cubierta de la superficie por residuos vegetales presentó valores sustancialmente más bajos de pérdida de suelo y agua que la ausencia de cubierta lo que confirma la importancia de la protección del suelo para reducir los procesos de erosión y mantener las condiciones físicas del mismo. Al analizar la relación lineal entre los diferentes índices de rugosidad, la capacidad de almacenamiento de agua del suelo, los índices multifractales Dq-30 y α max, asociados a los agregados de menor tamaño, el parámetro meseta del semivariograma y la rugosidad aleatoria, RR, presentaron valores de correlación más altos: por tanto estos índice pueden ser usados para representar la rugosidad de la superficie y también como datos de entrada en modelos de predicción de erosión hídrica.
[Abstract] Soil surface roughness is an important factor in erosive processes, especially in agricultural areas, as it is directly related to runoff generation and intensity, which in turn can lead to sediment transport and reduction of soil surface horizon fertility. Several methods are available to measure the roughness of the soil surface microrelief. In addition, different methodologies are needed to characterize the vertical and horizontal components of soil microtopography. In general, the random roughness index, RR, is the most widely used index to represent the vertical component of soil microtopography. However, for modeling the effects of microrelief, it is important also to take into account the effect of the horizontal geometry. For this reason, indices based on geostatistics and multifractal analysis also have been calculated. The main objective of Ph. D. thesis was to determine soil surface roughness using two different methods, while other soil surface attributes were recorded, in different soil tillage systems and surface conditions to reveal relationships between these attributes and microdepression water storage capacity as well as and to water erosion. The experimental work was perforemed in two different phases. The first step was devoted the comparison of two non-invasive methods of soil microtopography (potogramethy and laser diffraction), both under laboratory and field conditions, for assessing their accuracy, errors of value, estimation, number of readings per unit area and time needed to perform measurements. Also, successive simulated rainfall tests with an intensity of 63 mm h-1 were applied to the study plots, with dimensions of 1 m2 for promoting decline of soil microrelief, in order to test the ability of each method to detect decreasing topographical difference of the studied plots. In the laboratory samples from only soil type were studied. Under field conditions, soils with different textures, which are commom in the region of Galcia, Spain, were tested to monitoring not only surface roughness, but also water erosion. Values of RR ranged from 14.23 to 38.02 mm, and were of the same order of magnitude than those found in the literature for similar soil tillage condition. Soil surface roughness exhibited a strong spatial dependence, in the surfaces prepared both, at the laboratory and at the field. Under laboratory conditions, the effect of simulated rain was higher for surfaces with high initial surface roughness. The photogrammetry technique was more efficient following all the considered criteria than the laser roughness meter, so that it was more reliable to describe the cumulative effect of rainfall on soil microrelief. In the second step these research, the soil surface roughness left by different tillage systems and the relationship between roughness and water erosion were evaluated; three different soil surface conditions were studied, mechanical traction on soil covered by vegetal residues, mechanical traction on bare soil without vegetal residues and animal traction; plots of in 1 m2 with three repetitions each were used. Water erosion was quantified by applying a series of three successive simulated rainsfall on each plot, also with an intensity of 63 mm h-1. Values of RR ranged from 1.02 to 1.43, so that they were below the values most commonly found in the literature for similar conditions. Soil tillage and soil cover conditions influenced the soil physical attributes studied and also of soil and water losses. In general, the chisel plowing resulted in higher values of total porosity, lower bulk density and, subsequently, lower soil losses, although the soil surface roughness of this treatment was lower than that of the surfaces obtained with a single plowing. Surface cover by crop residues resulted in significantly lower values of soil and water loss than treatments without soil cover, corroborating the importance of soil protection in reducing erosion processes and maintaining soil physical conditions. The linear relationship between different roughness indices and soil water storage capacity, showed that RR, the sill parameter of the semivariogram an multifractal indices Dq-30 and α -30 exhibited higher correlations; therefore, these indices may be used to evaluate soil surface roughness and they also can be used as input data in water erosion prediction models.
Keywords
Suelos-Conservación
Suelos-Física
Erosión hídrica
Description
Programa de Doctorado en Investigación Agraria y Forestal
Rights
Os titulares dos dereitos de propiedade intelectual autorizan a visualización do contido desta tese a través de Internet, así como a súa reproducción, gravación en soporte informático ou impresión para o seu uso privado e/ou con fins de estudo e de investigación. En nengún caso se permite o uso lucrativo deste documento. Estos dereitos afectan tanto ó resumo da tese como o seu contido Los titulares de los derechos de propiedad intelectual autorizan la visualización del contenido de esta tesis a través de Internet, así como su repoducción, grabación en soporte informático o impresión para su uso privado o con fines de investigación. En ningún caso se permite el uso lucrativo de este documento. Estos derechos afectan tanto al resumen de la tesis como a su contenido