Le università cattoliche negli U.S.A. al crocevia fra tutela dell'identità e derive secolaristiche: L'utilità di una comparazione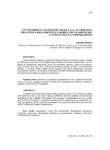 View/Open
Collections
Title
Le università cattoliche negli U.S.A. al crocevia fra tutela dell'identità e derive secolaristiche: L'utilità di una comparazione
Author(s)
Date
2006
Citation
Anuario da Facultade de Dereito da Universidade da Coruña, 2006, 10: 685-697 ISSN: 1138-039X
Abstract
[Resumen] Universidades católicas y separación Iglesia-Estado en Estados Unidos. Estudio de diferentes casos de la Corte Suprema que analizan el carácter confesional y su condición de instituciones educativas de las Universidades católicas. Grado de secularización necesario para que estos centros universitarios puedan acceder a la financiación pública, y al mismo tiempo estudio de los requisitos que deben cumplir para mantener su condición católica y su mandato eclesiástico docente. Problemas puntuales que afectan al personal docente en empresa de tendencia.
[Abstract] Catholic Universities and Church-State separation in the USA. Analysis of different Supreme Court cases about religious affiliation and the condition of educational institutions in the Catholic Universities. The necessary secularization level as a condition for the Universities to get public funding and the requeriments to maintin the catholic recognition and the academic mandatum. Some problems that affect the academic staff of religiously inspired organizations.
Keywords
Derecho a la igualdad
Igualdad ante la ley
Igualdad en la aplicación de la ley
Igualdad material
Medidas de discriminación positiva
Medios de garantía
Promoción de la igualdad
Separatism
Canon law personality
Institutional autonomy
Academic autonomy
ISSN
1138-039X
Related items
Showing items related by title, author, creator and subject.
Mosquera Monelos, Susana

(

Universidade da Coruña

,

2006

)

[Resumen] Estudio del contenido del derecho fundamental de igualdad en su dimensión formal y material. Análisis de la respuesta doctrinal y jurisprudencial a los problemas que plantea el concepto de igualdad ante la ley y ...

López Díaz, Ana Jesús (Coord.)

(

Universidade da Coruña, Servizo de Publicacións

,

2019

)

Novo-Corti, Isabel

;

Barreiro-Gen, María

;

González Laxe, Fernando

(

Universidade da Coruña (UDC) - España (Spain)

,

2014

)

[Resumo]: A inclusión social das persoas con discapacidade é unha dás prioridades das sociedades avanzadas, pero esta so se pode acadar plenamente en contornos normalizados. Se ben os xóvenes con discapacidade están accedendo ...