Análisis de la viabilidad de las esporas en poblaciones del helecho relicto amenazado Culcita macrocarpa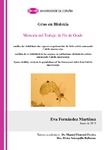 Title
Análisis de la viabilidad de las esporas en poblaciones del helecho relicto amenazado Culcita macrocarpa
Alternative Title(s)
Análise da viabilidade das esporas en poboacións do fieito relicto ameazado Culcita macrocarpa
Spore viability analysis in populations of the threatened relict fern Culcita macrocarpa

Author(s)
Directors
Pimentel Pereira, Manuel
Sahuquillo, Elvira

Date
2019
Center/Dept./Entity
Universidade da Coruña. Facultade de Ciencias
Description
Traballo fin de grao (UDC.CIE). Bioloxía. Curso 2018/2019
Abstract
[Resumen]: Culcita macrocarpa (Familia Dicksoniaceae), helecho arborescente relicto subtropical, se encuentra amenazado por la reducción de su hábitat. En este trabajo, pretendemos determinar si existen diferencias en la fitness entre diferentes poblaciones de este helecho. Se obtuvieron esporas en cuatro poblaciones gallegas de distinto tamaño que se sembraron in vitro aplicando dos tratamientos diferentes: germinación directa (tratamiento de luz) y mantenimiento en oscuridad 45 días antes de la germinación (tratamiento de oscuridad). Para cada población, se obtuvieron los porcentajes de viabilidad y germinación y se estimó la velocidad de germinación de forma indirecta. Los análisis estadísticos realizados mostraron diferencias significativas en la fitness de las poblaciones. Los valores de viabilidad son bajos, mientras que los de germinación (porcentaje y velocidad) son por lo general altos, observándose una clara diferenciación entre tratamientos. La situación geográfica parece ser más relevante que el tamaño poblacional en la fitness de las poblaciones. Sin embargo, será necesario analizar más poblaciones y observar más ciclos anuales para llegar a conclusiones más firmes.
[Resumo]: Culcita macrocarpa (Familia Dicksoniaceae), fieito arborescente relicto subtropical, atópase ameazado pola redución do seu hábitat. Neste traballo pretendemos determinar se existen diferenzas na fitness entre diferentes poboacións deste fieito. Obtivéronse esporas en catro poboacións galegas de distinto tamaño que sembráronse in vitro aplicando dous tratamentos diferentes: xermolación directa (tratamento de luz) e mantemento en escuridade 45 días antes da xermolación (tratamento de escuridade). Para cada poboación, obtivéronse as porcentaxes de viabilidade e xermolación e estimouse a velocidade de xermolación de xeito indirecto. As análises estatísticas realizadas mostraron diferenzas significativas na fitness das poboacións. Os valores de viabilidade son baixos, mentres que os de xermolación (porcentaxe e velocidade) son polo xeral altos, observándose unha clara diferenciación entre tratamentos. A situación xeográfica semella ser máis relevante que o tamaño poboacional na fitness das poboacións. Porén, será necesario analizar máis poboacións e observar máis ciclos anuais para chegar a conclusións máis firmes.
[Abstract]: Culcita macrocarpa (Family Dicksoniaceae), a subtropical relict tree fern, is threatened by the reduction of its habitats. Here, we intend to determine if there are differences in fitness among different populations of this fern. Spores were obtained in four Galician populations with different population sizes. They were sown in vitro applying two different approaches. Spores were either sown directly (light treatment) or they were kept in the dark for 45 days before being sown (dark treatment). For each population, viability and germination percentages were obtained and germination speed was indirectly estimated. We conducted statistical analyses that showed significant differences in the fitness of populations. Viability values are low, while germination values (percentage and speed) are generally high, showing a clear differentiation between treatments. Geography seems to be more relevant than population size in the fitness of populations. More analyses including more populations are needed in order ascertain our results.
Keywords
Culcita macrocarpa
Fitness
Germinación
Viabilidad
Viabilidade
Xermolación
Germination
Viability
Rights
Os titulares dos dereitos de propiedade intelectual autorizan a visualización do contido deste traballo a través de Internet, así como a súa reproducción, gravación en soporte informático ou impresión para o seu uso privado e/ou con fins de estudo e de investigación. En nengún caso se permite o uso lucrativo deste documento. Estos dereitos afectan tanto ó resumo do traballo como o seu contido Los titulares de los derechos de propiedad intelectual autorizan la visualización del contenido de este trabajo a través de Internet, así como su repoducción, grabación en soporte informático o impresión para su uso privado o con fines de investigación. En ningún caso se permite el uso lucrativo de este documento. Estos derechos afectan tanto al resumen del trabajo como a su contenido