Estimation of elemental composition of agricultural soils from West Azerbaijan, Iran, using mid-infrared spectral models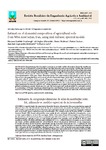 View/Open
Collections
Title
Estimation of elemental composition of agricultural soils from West Azerbaijan, Iran, using mid-infrared spectral models
Alternative Title(s)
Estimativa da composição elementar de solos do Azerbaijão oeste, Irã, utilizando-se modelos espectrais de infravermelho
Author(s)
Date
2019-04-30
Citation
Goydaragh, Maryam Ghebleh, Jafarzadeh, Ali Asghar, Shahbazi, Farzin, Oustan, Shahin, Taghizadeh-Mehrjardi, Ruhollah, & Lado, Marcos. (2019). Estimation of elemental composition of agricultural soils from West Azerbaijan, Iran, using mid-infrared spectral models. Revista Brasileira de Engenharia Agrícola e Ambiental, 23(6), 460-466.
Abstract
[Abstract] Characterizing the elemental composition provides useful information about the weathering degree of soils. In Miandoab County, Northern Iran, this characterization was missing, and thus the objectives of this work were to evaluate the weathering degrees for the most typical soils in the area from their elemental compositions, and to estimate this elemental composition using Fourier transform infrared spectroscopy and Random Forest models. Five soil profiles, including Aridisols and Inceptisols, were selected as the most representative of the area. Major elemental oxides were determined in each genetic horizon by X-ray fluorescence, showing that these soils were at early developmental stages. Only Al2O3 and CaO were accurately estimated, with R2 values of 0.8, and out-of-bag mean square errors of 0.2 and 1.1, respectively. The other oxides were not predicted satisfactorily, probably due to small differences in their elemental compositions. Random Forest provided the important spectral bands related to the content of each element. For Al2O3, these bands were between 500 and 650 cm-1, which represent out-of-plane OH bending vibrations and Al-O gibbsite and alumino-silicate vibrations. For CaO, the most important bands are related to carbonate content. A combination of Fourier transform infrared spectra and Random Forest models can be used as a rapid and low-cost technique to estimate the elemental composition of arid and semi-arid soils of Northern Iran.
[Resumo] A caracterização da composição elementar fornece informações úteis para caracterizar o grau de alteração dos solos. Em Miandoab, norte do Irã, esta caracterização não existe. Os objetivos deste trabalho foram avaliar o grau de intemperismo dos solos típicos da região usando a sua composição elementar e estimar esta composição usando espectroscopia infravermelha com transformada de Fourier (FTIR) e modelos Random Forest (RF). Foram selecionados cinco perfis de solo, incluindo Aridisolos e Inceptisolos, como os mais representativos da área. Os principais óxidos elementares foram determinados por fluorescência de raios-X em cada horizonte genético, mostrando que estes solos estavam em um estágio de baixo grau de desenvolvimento. Apenas o Al2O3 e o CaO foram estimados com precisão, com valores de R2 de 0,8 e erro quadrático médio nos dados utilizados para validação de 0,2 e 1,1, respectivamente, enquanto os outros óxidos não foram preditos satisfatoriamente, provavelmente devido às pequenas diferenças na sua composição. O modelo Random Forest forneceu importantes bandas espectrais relacionadas com o conteúdo de cada elemento. Para o Al2O3, estes atingiram a região 500 a 650 cm-1, o que foi atribuído a vibrações de flexão de OH e vibrações de Al-O de gibbsita e alumino-silicatos. Para o CaO, as bandas mais importantes estavam relacionadas ao teor de carbonatos. Os resultados indicam que uma combinação de espectros infravermelha de transformada de Fourier e modelos Random Forest pode ser usada como uma técnica rápida e de baixo custo para estimar a composição elementar de solos do norte do Irã.
Keywords
FTIR spectra
Random forest
Weathering
Espectros de FTIR
Intemperismo
Editor version
Rights
Atribución 4.0 España
ISSN