Impact of pig slurry application on soil and water losses: comparison with a historical series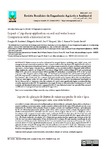 Collections
Title
Impact of pig slurry application on soil and water losses: comparison with a historical series
Alternative Title(s)
Impacto da aplicação de dejetos de suínos nas perdas de solo e água: comparação com uma série histórica
Author(s)
Date
2019-04-30
Citation
Bandeira, Douglas H., Bertol, Ildegardis, Vázquez, Eva V., Ramos, Júlio C., & Bertol, Camilo. (2019). Impact of pig slurry application on soil and water losses: Comparison with a historical series. Revista Brasileira de Engenharia Agrícola e Ambiental, 23(6), 425-431.
Abstract
[Abstract] Water erosion in soil is influenced by several factors, including rain, relief, cover, and management and conservation practices. Also, erosion is affected by pig slurry (PS) applied to the soil as a fertilizer. The objectives of this research were i): to evaluate water erosion in a Humic Cambisol cultivated with Zea mays L., Avena strigosa, Glycyne max L., and Raphanus sativus in rotation after PS dispersal under different tillage treatments, namely: no-tillage (NT), minimum tillage (MT), rotation tillage (RT) and conventional tillage (CT) , and ii): to compare erosion before and after PS application in a single dose of 50 m3 ha-1 in each crop, soon after the germination of the crops. NT had lower soil and water loss, which were reduced by 81 and 13%, respectively, in relation to CT. Differences in soil and water losses were lower between MT and RT, than between other treatments. The contents of phosphorus (P) and potassium (K) in the superficial layers of the soil were higher under NT than under CT. The contents of P and K in the sediments were higher in the NT than in the CT treatment. Also, the contents of P and K were significantly higher in sediments than in water, especially under NT. The application of a single PS dose on the soil surface increased soil P and K contents and decreased water erosion compared to the 19-year historical series that preceded this research in different soil management systems without PS application.
[Resumo] A erosão hídrica no solo é influenciada por diversos fatores, incluindo chuva, relevo, cobertura, e manejo e práticas conservacionistas. Ainda, a erosão é afetada pelo dejeto suíno (DS) aplicado ao solo como fertilizante. Os objetivos desta pesquisa foram i): avaliar a erosão em Cambissolo Húmico, após aplicação de DS sob diferentes tratamentos: plantio direto (PD), cultivo mínimo (CM), rotação de preparos (RP) e plantio convencional (PC), cultivados com Zea mays L., Avena strigosa, Glycyne max L., e Raphanus sativus em rotação, e ii): comparar a erosão antes e após a aplicação de DS em dose única de 50 m3 ha-1 em cada cultivo, logo após a germinação das culturas. O PD apresentou menor perda de solo e água, reduzindo em 81 e 13%, respectivamente, em relação à PC. Diferenças nas perdas de solo e água foram menores, entre CM e RP, do que nos outros tratamentos. O teor de fósforo (P) e potassio (K) nas camadas superficiais do solo foi maior em PD do que em PC. Os teores de P e K nos sedimentos foram maiores no PD que no PC. Ainda, os teores de P e K foram significativamente maiores nos sedimentos do que na água, especialmente PD. A aplicação da dose única de DS na superfície do solo melhorou os teores de P e K do solo e diminuiu a erosão hídrica em relação ao histórico de 19 anos que antecederam esta pesquisa, em diferentes sistemas de manejo do solo e sem aplicação de DS.
Keywords
Conservation tillage
Erosivity
Crop rotation
Organic fertilization
Preparo conservacionista
Erosividade
Rotação de culturas
Adubação orgânica
Editor version
Rights
Atribución 4.0 España
ISSN