A aprendizaxe da música a través da relación da música culta da tradición Occidental e da música popular moderna e contemporánea: unha investigación etnográfica na educación secundaria post-obrigatoria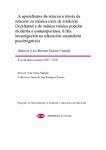 Title
A aprendizaxe da música a través da relación da música culta da tradición Occidental e da música popular moderna e contemporánea: unha investigación etnográfica na educación secundaria post-obrigatoria
Author(s)
Directors
Rodríguez Romero, María del Mar
Torres Santomé, Jurjo (Jorge)

Date
2018
Abstract
[Resumo] Esta investigación busca coñecer a configuración da ensinanza da música dentro da vía do Bacharelato de Artes Escénicas, Musicais e Danza, establecida dentro do marco lexislativo da LOE. Así, trátase de analisar a natureza e os fundamentos destas aprendizaxes observando, á súa vez, como se trasladan a nível de aula. O seu carácter etnográfico adecúase ao obxectivo de revelar como a música, alén de ser unha materia escolar, forma parte da cultura das persoas involucradas, sendo axentes musicais activos na súa vida diaria. Así, a etnografía permite acadar unha comprensión sobre as actitudes, bagaxe e preferencias dos estudantes cara a música, enriquecendo a visión de como se desenvolven as aprendizaxes dentro da aula. Tamén permite observar como o currículo das materias se adapta aos coñecementos, capacidades e expectativas do alumnado mediante a labor desenvolvida pola profesora. Como resultado, ao considerar a música como unha práctica culturalmente situada, a pesquisa esclarece as influencias que os presupostos culturais e sociais teñen sobre o deseño curricular, cuestionando criticamente a súa adecuación respeito ás diferentes culturas e sensibilidades musicais presentes na aula e ás necesidades de formación profesionalizadora do alumnado desta vía académica.
[Resumen] Esta investigación busca conocer la configuración de la enseñanza de la música dentro de la vía del Bachillerato de Artes Escénicas, Musicales y Danza, establecida dentro del marco legislativo de la LOE. Así, se trata de analizar la naturaleza y fundamentos de estos aprendizajes observando, a su vez, como se trasladan a nivel de aula . Su carácter etnográfico se adecúa al objetivo de revelar cómo la música, más allá de ser una materia escolar, forma parte de la cultura de las personas involucradas, siendo agentes musicales activos en su vida diaria. Así, la etnografía permite alcanzar una comprensión sobre las actitudes, bagajes y preferencias musicales de los estudiantes, enriqueciendo la visión de cómo se desarrollan los aprendizajes dentro del aula. También permite observar cómo el currículo de las materias, mediante la labor desarrollada por la profesora, se adapta a los conocimientos, capacidades y expectativas del alumnado. Como resultado, al considerar la música como una práctica culturalmente situada, el estudio esclarece las influencias que los presupuestos culturales y sociales tienen sobre el diseño curricular, cuestionando criticamente su adecuación respecto a las diferentes culturas y sensibilidades musicales presentes en el aula y a las necesidades de formación profesionalizadora del alumnado de esta vía académica.
[Abstract] This research seeks to know how music education is stablished within the Bacharelato de Artes Escénicas, Musicais e Danza option, stablished within the LOE legal framework. Thus, we investigate the nature and foundations of these learnings also observing how they occur at the classroom level. The ethnographic character of this research fits the goal of exploring how music, beyond of being a scholar subject, is an important part of people involved in this education process, as they are active music agents in their daily life. Thus, ethonography allows us to broaden the understanding of students´music backgrounds, preferences and attitudes, deepening our vision about how learnings take place within the classroom. Furthermore, it helps to illuminate how music subjects curricula, through the teacher work, are adapted to the exiting prior knowledge, skills and expectations of students. As a result, through considering music as a culturally situated practice, this study illuminates the influence of cultural and social premisses over the music curriculum design, critically examinating it actually fits the cultural and music sensitiveness of students, as well as the professionalizating education needs of students within this academic option.
Keywords
Música-Estudio y enseñanza (Secundaria)
Música-Aspecto social
Description
Programa Oficial de Doutoramento en Equidade e Innovación en Educación .5016V01
Rights
Os titulares dos dereitos de propiedade intelectual autorizan a visualización do contido desta tese a través de Internet, así como a súa reproducción, gravación en soporte informático ou impresión para o seu uso privado e/ou con fins de estudo e de investigación. En nengún caso se permite o uso lucrativo deste documento. Estos dereitos afectan tanto ó resumo da tese como o seu contido Los titulares de los derechos de propiedad intelectual autorizan la visualización del contenido de esta tesis a través de Internet, así como su repoducción, grabación en soporte informático o impresión para su uso privado o con fines de investigación. En ningún caso se permite el uso lucrativo de este documento. Estos derechos afectan tanto al resumen de la tesis como a su contenido
Related items
Showing items related by title, author, creator and subject.
Asociación Española de Psicodrama. Reunión Nacional (22. 2007. A Coruña); Congreso Iberoamericano de Psicodrama (6. 2007. A Coruña)

(

VI Congreso Iberoamericano de Psicodrama

,

2007

)

Garribba, Aviva

;

Floquet, Oreste

(

Universidade da Coruña

,

2007

)

Álvarez Álvarez, Henar

(

Universidade da Coruña

,

2008

)