Comunicación en las federaciones deportivas en Portugal: ¿dónde estamos?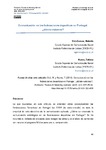 View/Open

Except where otherwise noted, this item's license is described as Atribución-CompartirIgual 3.0 España
Collections
Title
Comunicación en las federaciones deportivas en Portugal: ¿dónde estamos?
Author(s)
Date
2018
Citation
Eiró-Gomes, M., & Nunes, T. (2018). Comunicación en las federaciones deportivas en Portugal: ¿dónde estamos?. Redmarka. Revista De Marketing Aplicado, 01(022), 65-88. https://doi.org/10.17979/redma.2018.01.022.4935
Abstract
[Resumen] Lo que buscamos en este artículo es entender cómo conceptualizan las Federaciones Deportivas en Portugal las RRPP (la comunicación) en toda la amplitud de esta disciplina de la comunicación aplicada. ¿Cómo es encarada la comunicación estratégica en las federaciones deportivas em Portugal? Se ha recurrido al método de encuesta para recoger los datos y al análisis de contenido con recurso al programa N-Vivo para una su comprensión.
[Abstract] The specific research question that this paper will be addressing may be summarised as an interrogation about the role that the Public Relations (communication) professionals are called to fulfill in the sports federations in Portugal. Do the communication professionals have operational and strategic responsibilities in the portuguese sports federations? How do these organisations understand the concept of "strategic communication"? Is institutional or corporate communications still understood as a function that belongs exclusively to the realm of the private companies? Under the umbrella concept of strategic responsibilities we've considered aspects as the definition of the communication priorities in a strategic and planned way or the mapping and management of the stakeholders. Questions as the existence of a media relations plan or a risk and crisis communication plan were also addressed. Under the idea of a more operational approach we've considered aspects that have to do with events and actions that are dealt in a merely responsive or casuistical way. In order to produce the data, semi-structured interviews were conducted in all the sports federations respondents by a researcher, and the data collected analysed with the help of a qualitative text / content analysis software, NVivo.
[Resumo] A pergunta de partida do presente artigo pode ser apresentada como uma interrogação, sobre qual é o papel que os profissionais de Relações Públicas (comunicação) são chamados a desempenhar nas federações desportivas em Portugal. Os profissionais de comunicação têm responsabilidades operacionais e estratégicas nas federações desportivas portuguesas? Como é que estas organizações compreendem o conceito de "comunicação estratégica"? Será a comunicação institucional ou corporativa é ainda entendida como uma função que pertence exclusivamente às empresas privadas? Tendo por base a noção de responsabilidades estratégicas, foram consideradas questões como qual a forma de definição das prioridades estratégicas ou o modo como é realizado o mapeamento e gestão de públicos. Questões como a existência de um plano de relações com os media ou de um plano de comunicação risco e crise foram também analisadas. Sob a ideia de uma abordagem mais operacional foram abordados aspetos relacionados com a realização de eventos ou ações pontuais e reativas. Os dados foram recolhidos com recurso ao método de entrevista e os dados recolhidos analisados com recurso a um programa de análise de conteúdo – Nvivo.
Keywords
Federaciones deportivas
Comunicación en las organizaciones deportivas
Relaciones públicas
Sports communication
Sports federations
Public relations
Editor version
Rights
Atribución-CompartirIgual 3.0 España
ISSN
1852-2300