Incorporación de plásticos en estuches de tricópteros: ¿una trampa evolutiva?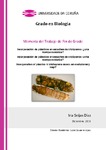 View/Open
Title
Incorporación de plásticos en estuches de tricópteros: ¿una trampa evolutiva?
Alternative Title(s)
Incorporación de plásticos en estuches de tricópteros: unha trampa evolutiva?
Incorporation of plastics in trichoptera cases: an evolutionary trap?

Author(s)
Directors
Couceiro, Lucía
Date
2018
Center/Dept./Entity
Universidade da Coruña. Facultade de Ciencias
Description
Traballo fin de grao (UDC.CIE). Bioloxía. Curso 2018/2019
Abstract
[Resumen]: El medio ambiente está cambiando de manera drástica y brusca a causa del ser humano. Una consecuencia importante de dichos cambios son las denominadas trampas evolutivas, un término que hace referencia al fenómeno de desacoplamiento entre la señal que indica la calidad de un recurso y su verdadera calidad como consecuencia de los cambios ambientales ocasionados por el ser humano. De hecho, las trampas evolutivas provocan que los organismos exploten recursos de peor calidad y disminuyen en definitiva su eficacia biológica. Los tricópteros son insectos holometábolos voladores cuyas larvas, que viven en ambientes acuáticos, muestran un llamativo comportamiento constructor. Entre las construcciones más características del grupo se encuentran los estuches portátiles que proporcionan a las larvas camuflaje y protección frente a sus potenciales predadores. Ante el hallazgo inesperado de un estuche de tricóptero que exhibía dos fragmentos de plástico de vistosos colores en un tramo profundamente perturbado del Rego de Trabe (Culleredo, A Coruña), en el presente estudio se investigó la frecuencia de dicho comportamiento con el objetivo de determinar si la mencionada observación –que podría constituir un nuevo ejemplo de trampa evolutiva– se trataba de un fenómeno puntual o extendido. Aunque la utilización de plásticos para la construcción de estuches portátiles fue nuevamente constatada (2 individuos), la mayoría de los tricópteros estudiados no mostró signo alguno de este tipo de comportamiento. Consecuentemente, el presente estudio no nos permite afirmar que la incorporación de plásticos en estuches de tricópteros sea un hecho generalizado y, por consiguiente, pueda tratarse de una trampa evolutiva.
[Abstracts]: The environment is changing drastically and rapidly because of the human being. An important consequence of these changes are the so-called evolutionary traps, a term that refers to the phenomenon of decoupling between the signal that indicates the quality of a resource and its actual quality as a result of human environmental changes. Indeed, evolutionary traps cause organisms to exploit resources of poorer quality and ultimately reduce their biological fitness. Caddisflies are flying, holometabolous insects whose larvae, which live in freshwater habitats, show a striking building behaviour. Among the most characteristic constructions of this group are the portable cases that provide the larvae camouflage and protection against their potential predators. Faced with the unexpected finding of a caddisfly case showing two brightly coloured plastic fragments in a deeply disturbed section of the Rego de Trabe (Culleredo, A Coruña), in the present study the frequency of such a behaviour was investigated in order to determine whether the aforementioned observation –which could represent a new example of evolutionary trap– was an exceptional or an extended phenomenon. Although the use of plastics for constructing portable cases was again verified (2 individuals), most of the studied caddisflies showed no signs of this type of behaviour. Consequently, the present study does not allow us to affirm that the incorporation of plastics in caddisflies cases is a generalized fact and, therefore, it could represent an evolutionary trap.
Keywords
Comportamiento constructor
Contaminación
Estuche
Frigáneas
HIREC
Plásticos
Trampa ecológica
Trampa evolutiva
Trichoptera
Tricóptero
Building behaviour
Caddisflies
Case
Contamination
Ecological trap
Evolutionary trap
Plastics
Rights
Os titulares dos dereitos de propiedade intelectual autorizan a visualización do contido deste traballo a través de Internet, así como a súa reproducción, gravación en soporte informático ou impresión para o seu uso privado e/ou con fins de estudo e de investigación. En nengún caso se permite o uso lucrativo deste documento. Estos dereitos afectan tanto ó resumo do traballo como o seu contido Los titulares de los derechos de propiedad intelectual autorizan la visualización del contenido de este trabajo a través de Internet, así como su repoducción, grabación en soporte informático o impresión para su uso privado o con fines de investigación. En ningún caso se permite el uso lucrativo de este documento. Estos derechos afectan tanto al resumen del trabajo como a su contenido