El uso del neuromarketing y del marketing sensorial en los eventos: un estudio de caso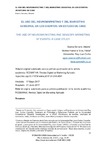 Ver/Abrir
Colecciones
Título
El uso del neuromarketing y del marketing sensorial en los eventos: un estudio de caso
Título(s) alternativo(s)
The use of neuromarketing and sensory marketing at events: A case study
Fecha
2017
Cita bibliográfica
Guerra Serrano, A., & Gomes-Franco e Silva, F. El uso del neuromarketing y del marketing sensorial en los eventos: un estudio de caso. Redmarka. Revista De Marketing Aplicado, 01(018), 21-47. https://doi.org/10.17979/redma.2017.01.018.4857
Resumen
[Resumen] A partir de las últimas décadas del pasado siglo se han implementado diversas técnicas de marketing derivadas de estudios realizados en diferentes áreas del conocimiento, como la psicología o la neurociencia. Se identifica, a raíz de dichas investigaciones, una serie de elementos que condicionan la toma de decisiones de los consumidores sin que estos sean conscientes de que están bajo la influencia de factores externos que les motivan a optar por una marca en detrimento de otras. El presente estudio propone un acercamiento a la utilización de técnicas de neuromarketing y marketing sensorial en un evento de carácter promocional realizado por la empresa japonesa de fabricación de automóviles Suzuki en el mes de noviembre de 2015, en el municipio de Boadilla del Monte (Madrid, España). Se realiza un estudio de caso mediante la técnica de la observación directa y, de manera complementaria, se aplica una encuesta breve a algunos de los invitados al evento a modo de feedback. Los resultados del análisis apuntan a un efecto potenciador de la experiencia vivida en el evento debido al empleo de técnicas que pretenden estimular los sentidos y actuar de manera positiva en el recuerdo de la marca. El estudio incide en la importancia de ahondar en las investigaciones acerca del uso de las diferentes técnicas de neuromarketing y marketing sensorial en los eventos, objeto escasamente analizado en el ámbito académico.
[Abstract] From the last decades of the twentieth century it has implemented various marketing techniques derived from studies conducted in different areas of knowledge, such as psychology or neuroscience. Because of these investigations, it has been identified several elements that influence the decision making of consumers without them being aware that they are under the influence of external factors that motivate them to choose one brand over others. This study proposes an approach to the use of neuromarketing and sensory marketing techniques in a promotional event by the Japanese automotive multinational corporation Suzuki in November 2015 in the municipality of Boadilla del Monte (Madrid, Spain). A case study is performed using the technique of direct observation and, in a complementary way, a brief survey has been applied to some of the event guests as a feedback. The results of the analysis show a potentiation effect of the lived experience in the event due to the use of techniques that aim to stimulate the senses and act positively in the memory of the brand. The study highlights the importance of deepening research on using different techniques of neuromarketing and sensory marketing in events, object barely analyzed in academic environment.
Palabras clave
Neuromarketing
Marketing sensorial
Marketing de experiencias
Sensory marketing
Experience marketing
Versión del editor
ISSN
1852-2300
Ítems relacionados
Mostrando ítems relacionados por Título, autor o materia.
González-Ferriz, Fernando

(

Universidade da Coruña

,

2021-06-30

)

[Resumen] La siguiente investigación pretende analizar la evolución del concepto de marketing y la influencia de nuevos enfoques (como el marketing relacional, las políticas de responsabilidad social y la incorporación de ...

Riani Costa Perinotto, André

;

Lima Sobrinho, Luciano de

;

Rodrigues Soares, Jakson Renner

;

Sánchez-Fernández, María Dolores

(

Universidade Nove de Julho

,

2021

)

[Resumo] Objetivo do estudo: Com o surgimento do vírus Covid-19, medidas de prevenção para controlar seu avanço foram tomadas por todo o mundo, acarretando impactos significativos no setor turístico e obrigando as empresas ...

Canossa Montes de Oca, Héctor

(

Universidade da Coruña

,

2019

)

[Resumen] El marketing efectivo requiere de procesos de información continuos. Las acciones estratégicas y las investigaciones aisladas no son suficientes, lo que necesitan las empresas son sistemas integrales de información ...