Editorial for the special issue: Thermophiles and Thermozymes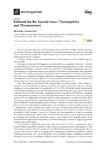 View/Open
Collections
Title
Editorial for the special issue: Thermophiles and Thermozymes
Author(s)
Date
2019-02-27
Citation
González-Siso, M.-I. Editorial for the Special Issue: Thermophiles and Thermozymes. Microorganisms 2019, 7, 62.
Abstract
[Abstract:] Heat-loving microorganisms or thermophiles arouse noticeable scientific interest nowadays, not only with the aim to elucidate the mystery of life at high temperatures, but also due to the huge field of biotechnological applications of the enzymes they produce or thermozymes, able to function under industrial harsh conditions [...]
Editor version
Rights
Atribución 4.0
© 2019 by the author. Licensee MDPI, Basel, Switzerland. This article is an open access article distributed under the terms and conditions of the Creative Commons Attribution (CC BY) license (http://creativecommons.org/licenses/by/4.0/).
ISSN
2076-2607