Nombramientos discrecionales en la carrera judicial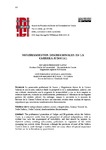 View/Open

Except where otherwise noted, this item's license is described as Atribución-CompartirIgual 3.0 España
Collections
Title
Nombramientos discrecionales en la carrera judicial
Author(s)
Date
2018
Citation
Anuario da Facultade de Dereito da Universidade da Coruña, 2018, 22: 357-384. ISSN: 1138-039X
Abstract
[Resumen] La promoción profesional de Jueces y Magistrados dentro de la Carrera Judicial es una materia sensible desde la perspectiva de la independencia judicial, con una evidente vinculación con la exigencia de inamovilidad, y que se debe inspirar en criterios objetivos, evitando las arbitrariedades, preferencias o veleidades de los órganos gestores del estatuto judicial. Sin embargo, aunque la provisión de la mayoría de destinos de la Carrera Judicial se hace por concurso, existen otros muchos de especial importancia que resultan ser nombramientos discrecionales
[Abstract] The professional promotion of Judges and Magistrates within the Judicial Career is a sensitive matter from the perspective of judicial independence, with an evident link with the requirement of immobility, and that should be inspired by objective criteria, avoiding arbitrariness, preferences or vagueness of the bodies managing the judicial status. However, although the provision of most of the Judicial Career's fates is made through a contest, there are many others of special importance that turn out to be discretionary appointments
Keywords
Independencia judicial
Jueces y magistrados
Consejo General del Poder Judicial
Poder judicial
Nombramientos discrecionales
Judicial independence
Judges and magistrates
General Council of the Judiciary
Judicial system
Discretionary appointments
Rights
Atribución-CompartirIgual 3.0 España
ISSN
1138-039X
Related items
Showing items related by title, author, creator and subject.
Ruiz Albert, Miguel Ángel

(

Universidade da Coruña

,

2012

)

Núñez Fiaño, María del Carmen

(

2019

)

[Resumen] La subsistencia del mutualismo judicial como uno de los mecanismos de protección del RESSAJ en el marco de simplificación y homogeneización del sistema de Seguridad Social impone la necesidad de conocer la ...

Clemente, Miguel

;

Padilla-Racero, Dolores

;

Espinosa, Pablo

(

2020

)

[Abstract] This research examines the relationship between dark triad and the use that some parents make of their children in order to attack the other parent after a couple break-up. We examined whether parents who are ...