Vergüenza como institución social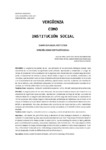 Except where otherwise noted, this item's license is described as Atribución-NoComercial-CompartirIgual 3.0 España
Title
Vergüenza como institución social
Alternative Title(s)
Vergoña como institución social
Shame as a social institution

Author(s)
Directors
Rodríguez Rodríguez, Carmen
López Rey, José A.

Date
2017
Center/Dept./Entity
Universidade da Coruña. Facultade de Socioloxía
Description
Traballo fin de grao (UDC.SOC). Socioloxía. Curso 2016/2017
Abstract
[Resumen] La vergüenza ha partido de ser una derivación de las emociones biológicas básicas hasta convertirse en un continente de significado social utilizado, reproducido y conservado a lo largo del tiempo. El proceso de institucionalización de la vergüenza está relacionado con su fuerte carga de control social, al representar las normas o pautas ideales dadas a seguir en una sociedad, socializadas a los individuos, que las sienten como propias. El objetivo principal de este trabajo es profundizar en el estudio y en el conocimiento de esta institución, definirla y operativizarla. Para ello, se plantea una constitución del marco teórico y una metodología compuesta por entrevistas y una encuesta puesta a prueba en un pre-test, con el fin de definir ítems con los que poder estudiarla.
[Resumo] A vergoña partiu de ser unha derivacion das emocions bioloxicas basicas ata convertirse nun continente de dignificado social utilizado, reproducido e conservado ao longo do tempo. O proceso de institucionalización da vergoña está relacionado coa sua forte carga de control social, ao representar as normas ou pautas ideais dadas a seguir nunha sociedade, socializadas aos individuos, que as toman como propias. O obxetivo principal deste traballo é profundizar no estudo e no coñecemento desta institucion, definila e operativizala. Para isto, plantease unha constitucion do marco teorico e unha metodoloxia composta por entrevidtas e unha enquisa posta a proba nun pretest, co fin de definir items cos que poder estudala.
[Abstract] The shame has gone from being a derivation of basic biological emotions to becoming a continent of social meaning used, reproduced and preserved over time. The process of institutionalization of shame is related to its heavy burden of social control, by representing the norms or ideal guidelines given to be followed in a society, socialized to individuals, who feel their own. The main objective of this work is to deepen the study and knowledge of this institution, to define it and to make it operative. To do this, a theoretical framework and a methodology composed by interviews and a survey tested in a pre-test are proposed, in order to define items with which to study it.
Keywords
Vergüenza
Institución social de la vergüenza
Control del self
Sociología de las emociones
Vergoña
Institución social da vergoña
Socioloxía das emocións
Shame
Social institution of shame
Self control
Sociology of emotions
Rights
Atribución-NoComercial-CompartirIgual 3.0 España