Satisfacción con el grado y estilo de vida de estudiantes en la etapa de la adultez emergente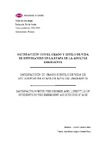 Title
Satisfacción con el grado y estilo de vida de estudiantes en la etapa de la adultez emergente
Alternative Title(s)
Satisfacción co grado e estilo de vida de estudantes na etapa da adultez emerxente
Satisfaction with the degree and lifestyle of students in the emergent adulthood stage

Author(s)
Directors
López-Cortón Facal, Ana
Date
2019
Center/Dept./Entity
Universidade da Coruña. Facultade de Socioloxía
Description
Traballo fin de grao (UDC.SOC). Socioloxía. Curso 2018/2019
Abstract
[Resumen] La adultez emergente es la etapa en la que los jóvenes de entre 18 y 25 años experimentan el paso de la adolescencia a la adultez a través de cambios sociales. La presente investigación tiene un enfoque teórico y cuantitativo cuyos objetivos principales están centrados en conocer la satisfacción con el grado y el estilo de vida que tienen los estudiantes del área de ciencias de la Universidad de A Coruña durante esta etapa. Para poder contestar a dichos objetivos, se llevó a cabo una investigación teórica de los distintos conceptos, un análisis descriptivo y un análisis de correspondencias múltiples, de los cuales se concluye que los universitarios de la Facultad de Ciencias de A Coruña están bastante satisfechos tanto con la carrera que cursan como con el modo de vida universitario que están llevando.
[Resumo] A adultez emerxente é a etapa na que os mozos de entre 18 e 25 anos experimentan o paso da adolescencia á adultez emerxente mediante cambios sociais. A presente investigación ten un enfoque teórico e cuantitativo cuxos obxectivos principais están centrados en coñecer a satisfacción co grado e o estilo de vida que teñen os mozos da area de ciencias da Universidade da Coruña durante esta etapa. Para poder contestar a ditos obxectivos, levouse a cabo unha investigación teórica dos distintos conceptos, un análises descritivo e un análises de correspondencias múltiples, do cal se concluíu que os universitarios da Facultade de Ciencias da Coruña están bastante satisfeitos tanto ca carreira que cursan como co modo de vida universitario que están a levar.
[Abstract] Emergent adulthood is the stage in which young people between the ages of 18 and 25 experience the transition from adolescence to adulthood through social changes. This research has a theoretical quantitative approach, which focuses on knowing the satisfaction with the degree and the lifestyle of young students from the science area of the University of A Coruña during this stage. In order to answer these objectives, a theoretical investigation about the different concepts, a descriptive analysis and a multiple correspondence analysis were carried out, which concluded that the university students at the Faculty of Sciences of A Coruña are fairly satisfied both with the career they are studying and their college lifestyle.
Keywords
Satisfacción
Estilo de vida
Adultez emergente
Universidad
Adultez emerxente
Universidade
Satisfaction
Lifestyle
Emergent adulthood
University
Rights
Os titulares dos dereitos de propiedade intelectual autorizan a visualización do contido deste traballo a través de Internet, así como a súa reproducción, gravación en soporte informático ou impresión para o seu uso privado e/ou con fins de estudo e de investigación. En nengún caso se permite o uso lucrativo deste documento. Estos dereitos afectan tanto ó resumo do traballo como o seu contido Los titulares de los derechos de propiedad intelectual autorizan la visualización del contenido de este trabajo a través de Internet, así como su repoducción, grabación en soporte informático o impresión para su uso privado o con fines de investigación. En ningún caso se permite el uso lucrativo de este documento. Estos derechos afectan tanto al resumen del trabajo como a su contenido