A educação ambiental no controle da bioinvasão marinha por Coral-sol (Tubastraea spp., Anthozoa, Dendrophylliidae) em Angra dos Reis (Rio de Janeiro, Brasil)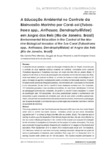 View/Open

Except where otherwise noted, this item's license is described as Atribución-CompartirIgual 3.0 España
Collections
Title
A educação ambiental no controle da bioinvasão marinha por Coral-sol (Tubastraea spp., Anthozoa, Dendrophylliidae) em Angra dos Reis (Rio de Janeiro, Brasil)
Alternative Title(s)
Environmental education in the control of the marine biological Invasion of the Sun Coral (Tubastraea spp., Anthozoa, Dendrophylliidae) at Angra dos Reis (Rio de Janeiro, Brazil)
Date
2015
Citation
Ambientalmente Sustentable, 2015, 20: 323-343. ISSN: 1887-2417
Abstract
[Resumo] O presente estudo apresenta o papel da Educação Ambiental (EA) do Projeto Coral-Sol para o controle de duas espécies exóticas invasoras de cnidários, conhecidos como coral-sol (Tubastraea tagusensis e Tubastraea coccinea), em Angra dos Reis (Rio de Janeiro, Brasil). O objetivo foi identificar as formas de participação dos moradores de Ilha Grande (Angra dos Reis), local mais afetado por coral-sol no Brasil, no controle do invasor e avaliar as estratégias de EA para a formação de agentes multiplicadores sobre a temática de bioinvasão marinha. O estudo foi desenvolvido através de Pesquisa Qualitativa, com moradores de 12 povoados da Ilha Grande e com educadores. De set/ 2010 a mar/2013 foram realizados contatos com 724 moradores, 127 entrevistas gravadas e nove reuniões comunitárias. Ao todo foram identificadas 10 formas de participação potencial dos moradores. De jul/2011 a nov/2012 foram realizados 15 cursos de qualificação para 103 educadores. Os cursos possibilitaram ampliar o conhecimento dos educadores e gerar propostas de atividades para sala de aula sobre a temática apresentada. Assim, a EA permitiu o empoderamento dos atores sociais envolvidos, incentivando a participação nas tomadas de decisão e contribuindo para a conservação dos ambientes marinhos e melhoria da qualidade de vida local.
[Abstract] This study presents the role that Environmental Education (EE) has in the Sun Coral Project which aims to control two exotic invasive cnidarians, known as sun corals (Tubastraea tagusensis and T. coccinea) at Angra dos Reis (Rio de Janeiro, Brazil). The objective was to identify in which ways the residents of Ilha Grande (Angra dos Reis, the site most affected by the Sun coral in Brazil) participated in the control of the invader and evaluate EA strategies for the formation of multipliers of information on the subject of marine bioinvasion. The study was conducted through Qualitative Research with residents of 12 villages on Ilha Grande and educators. From September 2010 to March 2013 contacts were made with 724 residents, 127 interviews carried out and nine community meetings recorded. Alltogether ten potential forms of participation of residents were identified. From July 2011 to November 2012 15training courses were carried out for 103 educators. The courses enabled participants to expand their knowledge and produce proposals for classroom activities on the theme. EA therefore allowed to empowerment of the social players involved, encouraging participation in decision-making processes and contributing to the conservation to the marine environment, thus improving the quality of local life.
Keywords
Educação ambiental
Espécie exótica Invasora
Bioinvasão marinha
Tubastraea spp.
Brasil
Environmental education
Exotic Invasive species
Marine bionvasion
Brazil
Rights
Atribución-CompartirIgual 3.0 España
ISSN
1887-2417