A GIS-Embedded System to Support Land Consolidation Plans in Galicia.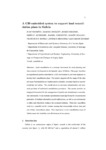 View/Open
Title
A GIS-Embedded System to Support Land Consolidation Plans in Galicia.
Author(s)
Date
2003-06
Citation
J. PARAPAR et al, "Research Article: A GIS-embedded system to support land consolidation plans in Galicia AU - TOURIÑO, JUAN," Int. J. Geogr. Inf. Sci., vol. 17, (4), pp. 377-396, 2003. Available: https://doi.org/10.1080/1365881031000072636.
Abstract
[Abstract] Land consolidation is a strategic instrument for rural planning and thus economic development in the Spanish region of Galicia. This paper describes an experimental system embedded in a GIS environment to aid rural engineers to develop land consolidation plans. The system supports all the stages of the plan and many functionalities are implemented as heuristic processes based on expert knowledge and advice. The overall aim is to overcome administrative and technical problems of traditional consolidation procedures. The system provides an integrated framework for the management of spatial and administrative consolidation information. It also includes optimization-based algorithms for the automated generation of multiple alternative parcel reallocations, as well as an environment to refine and objectively evaluate the proposed solutions. These key capabilities result in a powerful tool for decision making that dramatically reduces the time and cost of land consolidation plans. Pilot experiences in two consolidation zones of Galicia assess the feasibility and effectiveness of the system.
Keywords
GIS
Land consolidation plans
Algorithms
Description
This is an accepted manuscript of an article published by Taylor & Francis in International Journal of Geographical Information Science on June 2003, available online: http://www.tandfonline.com/10.1080/1365881031000072636
Editor version
ISSN