Proyecto de investigación de descontaminación de suelos por diesel en el laboratorio de construcción Eptisa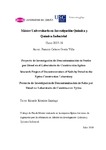 Title
Proyecto de investigación de descontaminación de suelos por diesel en el laboratorio de construcción Eptisa
Alternative Title(s)
Research project of decontamination of soils by diesel in the Eptisa construction laboratory
Proxecto de investigación de descontaminación de solos por diesel no laboratorio de construcción Eptisa

Author(s)
Directors
Riveiros, Ricardo
Date
2018
Center/Dept./Entity
Universidade da Coruña. Facultade de Ciencias
Description
Traballo fin de mestrado (UDC.CIE). Investigación química y química industrial. Curso 2017/2018
Abstract
[Resumen]: La descontaminación de suelo ha avanzado en los últimos años, para llevar a cabo diversas actuaciones remediadoras de los suelos, que se ven afectado por multitud de formas de contaminación imperceptibles a simple vista, y que también afectan de forma directa a otros ámbitos de nuestro entorno y con ello, a nosotros mismos. El objetivo de este informe es hacer una valoración de la situación actual de la contaminación de suelos por Diesel en la Facultad de Farmacia de la Universidad de Santiago de Compostela y esbozar una propuesta de actuación a la vista de los últimos resultados analíticos y de las pruebas de bombeo realizadas. En las investigaciones previas se instalaron piezómetros ejecutados mediante sondeos a rotación con recuperación de testigo. En los que se observó valores de TPH por encima de los umbrales tomados como referencia. Por lo que se procedió a realizar análisis del suelo y evaluación de riesgos actuales del suelo contaminado para realizar técnicas apropiadas de descontaminación.
[Abstract]: The decontamination of soil has advanced in recent years, to carry out various remedial actions of soils, which are affected by a multitude of forms of contamination imperceptible to the naked eye, and which directly affect other areas of our environment and with it, to ourselves. The objective of this report is to assert of the current situation of soil contamination by Diesel in the Faculty of Pharmacy of the University of Santiago de Compostela and outline a proposal for action in view of the latest analytical results and tests of pumping carried out. During the previous investigations, several piezometers were installed using rotary drilling with core recovery. The TPH values observed on them were above the thresholds taken as reference. So we proceeded to perform soil analysis and assessment of current risks of contaminated soil inorder to perform appropriate decontamination techniques.
Keywords
Suelos-Contaminación
Suelos-Polución por los hidrocarburos
Suelos-Descontaminación
Suelos-Análisis
Suelos-Aspecto del medio ambiente
Agua subterránea-Polución
Rights
Os titulares dos dereitos de propiedade intelectual autorizan a visualización do contido deste traballo a través de Internet, así como a súa reproducción, gravación en soporte informático ou impresión para o seu uso privado e/ou con fins de estudo e de investigación. En nengún caso se permite o uso lucrativo deste documento. Estos dereitos afectan tanto ó resumo do traballo como o seu contido Los titulares de los derechos de propiedad intelectual autorizan la visualización del contenido de este trabajo a través de Internet, así como su repoducción, grabación en soporte informático o impresión para su uso privado o con fines de investigación. En ningún caso se permite el uso lucrativo de este documento. Estos derechos afectan tanto al resumen del trabajo como a su contenido
Related items
Showing items related by title, author, creator and subject.
García-Tomillo, Aitor

;

Vidal Vázquez, Eva

;

Lado, Marcos

;

Dias, Rosane da Silva

;

Mirás-Avalos, José Manuel

;

Paz González, Antonio

(

2018

)

Boix, C.

;

Calvo Cases, A.

;

Schoorl, J. M.

;

Soriano Soto, M. D.

(

Universidade da Coruña

,

1996

)

[Resumen] Se investigan las diferencias entre la capacidad de retención hídrica de suelos mediterráneos sobre litología caliza sometidos a diferentes usos: incendiados y bajo pastoreo intensivo. En estos mismos suelos se ...

Vega y de la Fuente, A.

(

Universidade da Coruña

,

2004

)