Sistema de biosíntesis de acinetobactina en Acinetobacter baumannii : implicación en virulencia y caracterización de nuevas dianas terapéuticas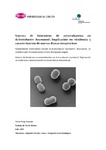 Collections
Title
Sistema de biosíntesis de acinetobactina en Acinetobacter baumannii : implicación en virulencia y caracterización de nuevas dianas terapéuticas
Alternative Title(s)
Acinetobactin biosynthesis system in Acinetobacter baumannii: implication on virulence and characterization of new therapeutic targets
Sistema de biosíntese de acinetobactina en Acinetobacter baumannii: implicación en virulencia e caracterización de novas dianas terapéuticas

Author(s)
Directors
Beceiro Casas, Alejandro
Poza, Margarita

Date
2018
Center/Dept./Entity
Universidade da Coruña. Facultade de Ciencias
Description
Traballo fin de mestrado (UDC.CIE). Bioloxía molecular, celular e xenética. Curso 2017/2018
Abstract
[Resumen]: A. baumannii es el microorganismo oportunista más conocido dentro del género Acinetobacter y está considerado como uno de los microorganismos más peligrosos dentro del ambiente hospitalario. Las infecciones y brotes nosocomiales causadas por este patógeno nosocomial se han incrementado notablemente en los últimos años debido a su capacidad para sobrevivir y propagarse rápidamente por el ambiente hospitalario. Su elevada plasticidad genética le permite desarrollar de forma rápida mecanismos de resistencia, lo cual favorece la aparición de cepas multirresistentes a diversas clases de antibióticos. En el presente trabajo se evalúa el papel que desempeñan los genes implicados en la ruta de síntesis del sideróforo acinetobactina en la patogénesis de A. baumannii. La acinetobactina es el principal sistema de captación de hierro presente en esta especie y, además, factor clave en el establecimiento de la infección bacteriana y generación de daño celular. Para estudiar la relevancia de estos genes se construyeron cepas mutantes derivadas de la cepa ATCC 17978 que fueron posteriormente analizadas en diferentes ensayos in vitro e in vivo.
[Resumo]: A. baumannii é o microorganismo oportunista máis coñecido dentro do xénero Acinetobacter e considerado como un dos microorganismos máis perigosos dentro do ambiente hospitalario. As infeccións e brotes nosocomiais causadas por este patóxeno nosocomial incrementáronse notablemente nos últimos anos debido á sua capacidade para sobrevivir e propagarse rápidamente polo ambiente hospitalario. A súa elevada plasticidade xenética permítelle desenvolver de forma rápida mecanismos de resistencia, o que favorece a aparición de cepas multirresistentes a diversas clases de antibióticos. No presente traballo evalúase o papel que desempeñan os xenes implicados na ruta de síntesis do sideróforo acinetobactina na patoxénesis de A. baumannii. A acinetobactina é o principal sistema de captación de ferro presente nesta especie e, ademais, factor clave no establecemento da infección bacteriana e xeración de dano celular. Para estudar a relevancia destes xenes construíronse cepas mutantes derivadas da cepa ATCC 17978 que foron posteriormente analizadas en diferentes ensaios in vitro e in vivo.
[Abstract]: A. baumannii is the most well-known opportunistic microorganism within the genus Acinetobacter and considered one of the most dangerous microorganisms within the hospital environment. Infections and nosocomial outbreaks caused by this nosocomial pathogen have increased markedly in recent years due to their ability to survive and spread rapidly through the hospital environment. Its high genetic plasticity allows it to develop rapid mechanisms of resistance, which favors the appearance of multiresistant strains to a variety of classes of antibiotics. In the present work the role played by the genes involved in the pathway of synthesis of the siderophore acinetobactin in the pathogenesis of A. baumannii is evaluated. Acinetobactin is the main iron uptake system present in this species and, furthermore, a key factor in the establishment of bacterial infection and generation of cell damage. To study the relevance of these genes, mutant strains derived from the strain ATCC 17978 were constructed and subsequently analyzed in different in vitro and in vivo assays.
Keywords
Acinetobacter
Bacterias-Resistencia a los medicamentos
Biofilms
Enfermedades infecciosas
Sideróforos