Habilidades sociales en la comunicación de los profesionales sanitarios en las unidades de cuidados críticos del Hospital Universitario de A Coruña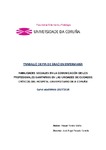 Collections
Title
Habilidades sociales en la comunicación de los profesionales sanitarios en las unidades de cuidados críticos del Hospital Universitario de A Coruña
Author(s)
Directors
Pesado Cartelle, José Ángel
Date
2018
Center/Dept./Entity
Universidade da Coruña. Facultade de Enfermaría e Podoloxía
Description
Traballo fin de grao (UDC.FEP). Enfermaría. Curso 2017/2018
Abstract
[Resumen] Introducción: El ingreso en unidades de críticos supone una situación de estrés tanto para el paciente como para su familia. Es por ello, que la comunicación entre los profesionales sanitarios, la familia y el paciente es importante, tanto para tomar decisiones como para la recuperación de éste. Objetivos: Evaluar las habilidades sociales de comunicación que poseen los profesionales sanitarios del Hospital Universitario de A Coruña con el paciente y su familia. Metodología: Se plantea un proyecto de estudio descriptivo, observacional, de carácter transversal, realizado por medio de la encuesta validada y desarrollada por Elena Gismero Gonzales. La población a estudio necesaria será de 140 profesionales sanitarios de las unidades de críticos (Unidad de cuidados intensivos y Reanimación) del hospital universitario de A Coruña (α=0.05; precisión=3%; pérdidas=15%) que acepten participar en el estudio.
[Resumo] Introducción: O ingreso en unidades críticas é unha situación de estrés tanto para o paciente como para a súa familia. É por iso que a comunicación entre os profesionais da saúde, a familia e o paciente é importante, tanto para a toma de decisións como para a recuperación do paciente. Obxetivos: Avaliar as habilidades sociais de comunicación que teñen os profesionais sanitarios nas unidades críticas do Hospital Universitario da Coruña co paciente e a súa familia. Metodoloxía: Proponse un proxecto de estudo descriptivo, observacional e transversal, realizado a través da enquisa validada e desenvolvida por Elena Gismero Gonzales. A poboación do estudo requirida será de 140 profesionais da saúde das unidades críticas (Unidade de coidados intensivos e de Reanimación) do hospital universitario da Coruña (α=0,05, precisión=3%, perdas=15%) que aceptan participar no estudo.
[Abstract] Aims: An hospital admission into critical units is a stress situation for both the patient and his family. That is why communication among healthcare professionals, the family and the patient is important, both to make decisions and to recover from them. Objetive: Evaluate the social skills in communication that health professionals have in the critical units of the University Hospital of A Coruña with the patient and his family. Method: A descriptive, observational and cross sectional study project based on the survey validated and developed by Elena Gismero Gonzales The study population will be 140 health professionals from the critical units (Intensive Care Unity and Reanimation) of the university hospital of A Coruña (α=0.05, accuracy=3%, losses=15%) who will agree to participate in the study.
Keywords
Comunicación
Cuidados críticos
Coidados críticos
Unidades de cuidados críticos
Unidades de coidados críticos
Habilidades sociales
Habilidades sociais
Rights
Os titulares dos dereitos de propiedade intelectual autorizan a visualización do contido deste traballo a través de Internet, así como a súa reproducción, gravación en soporte informático ou impresión para o seu uso privado e/ou con fins de estudo e de investigación. En nengún caso se permite o uso lucrativo deste documento. Estos dereitos afectan tanto ó resumo do traballo como o seu contido Los titulares de los derechos de propiedad intelectual autorizan la visualización del contenido de este trabajo a través de Internet, así como su repoducción, grabación en soporte informático o impresión para su uso privado o con fines de investigación. En ningún caso se permite el uso lucrativo de este documento. Estos derechos afectan tanto al resumen del trabajo como a su contenido
Related items
Showing items related by title, author, creator and subject.
Caparrós Esperante, Luis

(

Universidade da Coruña

,

2001

)

Salvador Mata, Francisco

;

Rodríguez Fuentes, Antonio V.

(

Universidade da Coruña

,

2001

)

Ferreiro Baamonde, Xulio

(

Universidade da Coruña

,

1999

)