How a bottom-up multi-stakeholder initiative helped transform the renal replacement therapy landscape in Spain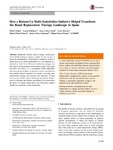 View/Open
Title
How a bottom-up multi-stakeholder initiative helped transform the renal replacement therapy landscape in Spain
Author(s)
Date
2017-03-06
Citation
Selgas R, Rodríguez L, Julián JC, Remón C, Prieto-Velasco M, Pérez-Contreras J, et al. How a bottom-up multi-stakeholder initiative helped transform the renal replacement therapy landscape in Spain. Appl Health Econ Health Policy. 2017; 15(6):755-762
Abstract
[Abstract] Healthcare reforms aim to change certain parts of the health system to improve quality of care, access, or financial sustainability. Traditionally, healthcare reform is understood as an action undertaken by a government at a national or local level. However, bottom-up changes can also lead to improvements in the health system. This paper describes the efforts of a coordinated multi-stakeholder advocacy group in Spain to promote a more cost-effective and patient-centred treatment for people receiving renal replacement therapy and assesses the outcomes of their advocacy for health system financing and patient satisfaction. It concludes that bottom-up initiatives do indeed have the power to change health policy and that policy makers should pay attention to their arguments.
Keywords
Delivery of health care
Health care reform
Health policy
National health programs
Patient-centered care
Quality of health care
Renal replacement therapy
Spain
Editor version
Rights
Atribución-NoComercial 3.0 España
ISSN
1175-5652
Related items
Showing items related by title, author, creator and subject.
Souto-Camba, Sonia

(

2012

)

[Resumen]La percepción de salud (PS) es un indicador subjetivo del estado de salud, usado en las encuestas de salud en Atención Primaria. OBJETIVO: Explorar la PS de los habitantes de un barrio con contrastes socioeconómicos, ...

Baño Peña, Gabriela

(

2015-07

)

[Resumo] Na sociedade segue a existir unha falta de cobertura dos dereitos máis básicos das persoas con trastorno mental, se a isto se lle suma a falta de cobertura cara os dereitos de equidade de xénero, incrementase ...

Presedo Sánchez, Clara

(

2016

)

[Resumen] Introducción: En el perfil demográfico actual se observa un aumento importante de la población anciana. La mayor parte reside en la comunidad. Uno de los principales síndromes geriátricos son las caídas, que ...