Percepción de la salud : determinantes sociales en la atención primaria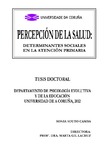 View/Open
Title
Percepción de la salud : determinantes sociales en la atención primaria
Author(s)
Directors
Gil Lacruz, Marta
Date
2012
Center/Dept./Entity
Universidade da Coruña. Departamento de Psicoloxía Evolutiva e da Educación
Abstract
[Resumen]La percepción de salud (PS) es un indicador subjetivo del estado de salud, usado en las encuestas de salud en Atención Primaria. OBJETIVO: Explorar la PS de los habitantes de un barrio con contrastes socioeconómicos, identificando sus principales determinantes sociales. MÉTODOS: Usando datos de una encuesta de salud efectuada a 1032 personas ≥ 15 años, residentes en tres zonas de un mismo barrio, se analizan las relaciones existentes entre la PS y las diferentes variables explicatorias (de tipo socioeconómico, de apoyo comunitario, de comportamientos negligentes relacionados con la salud, y de salud percibida y diagnosticada). Se realizó un análisis discriminante para definir las variables predictoras de la mejor salud de los vecinos frente a la peor salud. Una regresión lineal valoró el comportamiento de la PS frente a las variable territorio, variables sociodemográficas y sexo. RESULTADOS: Salud diagnosticada y percibida fueron las variables más relevantes para predecir de la salud de los vecinos. Territorio y clase social ejercieron también un papel predictor. Hubo un papel diferencial de la clase social en función del sexo. En las mujeres, la educación es el elemento facilitador de la PS, frente al empleo y los ingesos en los hombres. Las variables predictoras de una mejor PS (socioeconómicas) son diferentes a las que predicen una peor PS (asociadas con la experiencia directa de salud). CONCLUSIONES: Se define la población vulnerable como la de menos ingresos, menor nivel educativo, mayor edad, mayoritariamente mujeres y que residen en Viñedo Viejo, demostrando la existencia de inequidades en salud.
[Abstract] Self-rated perception is a subjective indicator of health, commonly used in health surveys in Primary Care. The aim of the study is to explore the self-rated perception in the inhabitants of a neighbourhood of socioeconomic differences, and to identify its main social determinants. MÉTHODS: Using data from a health survey from a cohort of 1032 people ≥ 15 age, living in three different areas of the neighbourhood, we explore the relationship between the Self-rated perception and the explanatory variables (a set of socioeconomic, social support, risk factor, perceived and diagnoses health). Discriminatory analysis was used to identify the predictors of good selfrated perceived health versus a worse one. Lineal regression analysis was used to asses the self-rated performance in relation to the explanatory variables territory, socioeconomics and sex. RESULTADOS: Diagnosed health and perceived health were the more relevant predictors of self-rated health. Territory and social class were also important predictors. It was find a differential role of social class in relation to sex. In women, education is a provider of a better self-rated health. In man, it is employ and income. Predictors of a better self-rated health (socioeconomic variables) are different form predictors of a worse self-rated health (variables linked to the direct experience of health). CONCLUSIONS: The vulnerable population it is defined as the less income, less educational level, high age, preferably women, and living in Viñedo Viejo. That shows the existence of inequities in health in the neighbourghood.
Keywords
Salud
Aspecto social
Salud pública
Encuestas
Aragón
Zaragoza
Percepción de la salud
Determinantes sociales de la salud
Encuesta de salud
Salud comunitaria
Self-rated health
Social determinants of health
Health survey
Community health
Rights
Os titulares dos dereitos de propiedade intelectual autorizan a visualización do contido desta tese a través de Internet, así como a súa reproducción, gravación en soporte informático ou impresión para o seu uso privado e/ou con fins de estudo e de investigación. En nengún caso se permite o uso lucrativo deste documento. Estos dereitos afectan tanto ó resumo da tese como o seu contido Los titulares de los derechos de propiedad intelectual autorizan la visualización del contenido de esta tesis a través de Internet, así como su repoducción, grabación en soporte informático o impresión para su uso privado o con fines de investigación. En ningún caso se permite el uso lucrativo de este documento. Estos derechos afectan tanto al resumen de la tesis como a su contenido
Related items
Showing items related by title, author, creator and subject.
Cantero Castrillo, Pedro

(

2017

)

[Resumen] La percepción de salud en jóvenes escolares Este estudio nace de la preocupación por la salud de los jóvenes. La elevada inactividad física y el alto coste de las pruebas médicas que tratan de conocer la salud ...

García Neves, Rosalía

;

Duro, Suele Manjourany Silva

;

Muñiz, Javier

;

Pérez-Castro, Teresa-Rosalía

;

Facchini, Luiz Augusto

;

Tomasi, Elaine

(

Sergio Arouca National School of Public Health, Oswaldo Cruz Foundation para Scielo

,

2018-03-29

)

[Resumo] O objetivo foi descrever a estrutura necessária à atenção às pessoas com diabetes, usuárias da rede de atenção primária à saúde, avaliada nos Ciclos I e II do Programa Nacional de Melhoria do Acesso e da Qualidade ...

Baño Peña, Gabriela

(

2015-07

)

[Resumo] Na sociedade segue a existir unha falta de cobertura dos dereitos máis básicos das persoas con trastorno mental, se a isto se lle suma a falta de cobertura cara os dereitos de equidade de xénero, incrementase ...