La unidad 2 de Caranza en Ferrol: futuro imperfecto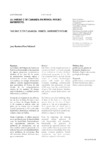 View/Open
Title
La unidad 2 de Caranza en Ferrol: futuro imperfecto
Alternative Title(s)
The unit 2 of Caranza. Ferrol: imperfect future
Author(s)
Date
2018
Citation
Boletín Académico, 2018, 8: 61-78. ISSN 2173-6723
Abstract
[Resumen] La Unidad 2 del Polígono de Caranza en Ferrol es un buen ejemplo de la concreción de algunas propuestas arquitectónicas idealistas de los años 60. Se trataba de proporcionar viviendas dignas a determinados sectores desfavorecidos, con resultados no siempre afortunados: edificios notables arquitectónicamente, pero generadores de formas de vida alejadas de los comportamientos sociales de los usuarios. El choque entre el idealismo y la realidad provocó disfunciones y conflictos. Se trata de un conjunto de seis edificios, tres de ellos en forma de torre y otros tres en forma de bloques lineales en L. El conjunto se articula sobre tres plazas que se cierran con un notable corredor perimetral de 119 paraboloides hiperbólicos disimétricos, formando un conjunto único en Galicia. Desde el principio, el edificio presentó serios problemas tanto de funcionalidad como de durabilidad. Funcionalmente son especialmente relevantes los problemas de circulaciones, con un claro conflicto entre lo proyectado y la realidad. En cuanto a la durabilidad hubo serios problemas de corrosiones. Han sido necesarias diversas intervenciones, que se comentarán.
[Abstract] The Unit 2 of the neighbourhood of Caranza in Ferrol is a good example of the realization of some idealistic architectural proposals of the 60s. The intention was to provide decent homes to certain disadvantaged sectors, with results not always fortunate: buildings architecturally remarkable, but generators of ways of life away from the social behavior of users. The clash between idealism and reality caused dysfunctions and conflicts. The Unit is a set of six buildings, three of them in the form of a tower and another three in the form of linear blocks in L. The set is articulated on three squares that are closed with a remarkable perimeter corridor of 119 dissymmetrical hyperbolic paraboloids, which is a unique set in Galicia. From the beginning, the building presented serious problems of both functionality and durability. Functionally, the problems of circulation are especially relevant, with a clear conflict between projected and reality. In terms of durability, there were serious corrosion problems. Several interventions have been necessary, which are analyzed in this article.
Keywords
Prefabricación
Paneles de hormigón
Arquitectura moderna
España
Años sesenta
Patología de hormigón
Prefabrication
Concrete panels
Modern architecture
Spain
Sixties
Concrete pathology.
Rights
Atribución-NoComercial 3.0 España
ISSN