Una aproximación al archivo de la figura de Milagros Rey Hombre, arquitecta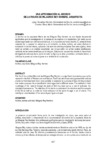 Collections
Title
Una aproximación al archivo de la figura de Milagros Rey Hombre, arquitecta
Author(s)
Date
2018-10
Citation
López González, Cándido y María Carreiro Otero (2018). Una aproximación al archivo de la figura de Milagros Rey Hombre, arquitecta. En:Vazquez Bermúdez, Isabel et al. Investigación y género. Reflexiones desde la investigación para avanzar en igualdad. VII Congreso Universitario Internacional Investigación y Género. Sevilla, 28 y 29 de junio de 2018. Sevilla, pp. 447-458.
Abstract
[Resumen] El archivo de la arquitecta María de los Milagros Rey Hombre es una fuente documental significativa para la investigación en el campo de las mujeres y la arquitectura. Un fondo que no estaba organizado con criterios archivísticos, ni nunca antes se había descrito. El presente texto pretende dar a conocer la estructura y el contenido de dicho archivo, así como efectuar la evaluación inicial del mismo, aplicando una serie de criterios prefijados. Con este objetivo, dicho fondo se somete a un análisis documental con el que definir un primer cuadro clasificatorio, partiendo de las series temáticas que lo integran. Esta acción nos permite abordar la transmisión del legado de esta arquitecta, poner en valor su figura y su obra, y contribuir, al mismo tiempo, a visibilizar la presencia de las mujeres en el ámbito de la arquitectura
[Abstract] The file of the architect María de los Milagros Rey Hombre is a significant documentary source for research in the field of Women and architecture. The Fund, which was not organised with archival criteria nor had described never, even partially, is subjected to a process of documentary analysis that made a proposal for a classification table organized in different series. The method of direct knowledge of the material through the work of field has been set as a rule of ordination the principle of provenance. The objective of this text is to understand the structure and the contents of the file as well as to make an initial evaluation of the same through a set of criteria. This visibility is a manifestation of the value of your figure and work.
Keywords
Archivo
Arquitecta
Milagros Rey Hombre
Archive
Woman architect
ISBN
978-84-948975-3-5