Estudo da contaminación aérea no Porto da Coruña no 2017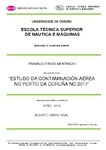 Collections
Title
Estudo da contaminación aérea no Porto da Coruña no 2017
Author(s)
Directors
Costa, Ángel M.
Date
2018
Center/Dept./Entity
Universidade da Coruña. Escola Técnica Superior de Náutica e Máquinas
Description
Traballo fin de mestrado (UDC.ETSNEM). Enxeñaría Mariña. Curso 2017/2018
Abstract
[Resumo]: O presente traballo consiste nunha análise das entradas de buques no porto da Coruña, para estudar que tipos de buque veñen a este porto a cargar ou a descargar na actualidade, e tendo en conta as características específicas de cada tipo de buque, cuantificar do xeito máis aproximado posible a cantidade de emisións durante o ano 2017. Os resultados finais entregarannos unhas cifras que nos permitirán ter conciencia do verdadeiro impacto ambiental que produce esta infraestrutura portuaria na calidade do aire da cidade da Coruña, en comparación con outros focos de contaminación atmosférica locais. Realizarase un estudo final dos resultados, coa intención de ver cal é a tendencia actual e identificar os puntos que se poden mellorar.
[Resumen] El presente trabajo consiste en un análisis de las entradas de buques en el puerto de A Coruña, para estudiar que tipos de buque vienen a este puerto a cargar o a descargar en la actualidad, y teniendo en cuenta las características específicas de cada tipo de buque, cuantificar de la forma más aproximada posible la cantidad de emisiones durante el año 2017. Los resultados finales nos entregarán unas cifras que nos permitirán tener conciencia del verdadero impacto ambiental que produce esta infraestructura portuaria en la calidad del aire de la ciudad de A Coruña, en comparación con otros focos de contaminación atmosférica locales. Se realizará un estudio final de los resultados, con la intención de ver cual es la tendencia actual e indentificar los puntos que se pueden mejorar.
[Abstract] The present study consists in an analysis of the entrance of ships in the port of A Coruña, to check which types of vessels come to this port to load or unload at present, and taking into account the specific characteristics of each kind of ship, quantify as closely as possible the amount of emissions during the year 2017. The final results will give us some figures that will allow us to be aware of the true environmental impact that this ports infrastructure produces in the air quality of the city of A Coruña, in comparison with other local air pollution issuers. Finally the results will be analyzed, with the intention of verifying the current trend and detect the points that can be improved.
[Zusammenfassung] Die vorliegende Arbeit analysiert, welche Schiffstypen im Jahr 2017 im Hafen von A Coruña zum Be- und Entladen anlegten und misst deren Emissionshöhe so genau wie möglich. Dies geschieht unter Berücksichtigung der spezifischen Charakteristika der einzelnen Schiffstypen. Die Endauswertungen liefern uns einige Zahlen, die uns erlauben, Erkenntnisse über das wirkliche Ausmaß der Umweltbelastung zu erlangen. Vor allem geht es darum, die Auswirkungen dieser Hafeninfrastruktur auf die Luftqualität der Stadt A Coruña mit anderen lokalen Ursachen von Luftverschmutzung zu vergleichen. Das Ziel besteht darin, die gegenwärtigen Tendenzen der Luftverschmutzung sichtbar zu machen und die Aspekte herauszuarbeiten, die verbessert werden können. Den Abschluss der Arbeit bildet die Analyse dieser gewonnenen Ergebnisse.
Keywords
Puerto de A Coruña (Galicia)
Contaminación aérea
Rights
Os titulares dos dereitos de propiedade intelectual autorizan a visualización do contido deste traballo a través de Internet, así como a súa reproducción, gravación en soporte informático ou impresión para o seu uso privado e/ou con fins de estudo e de investigación. En nengún caso se permite o uso lucrativo deste documento. Estos dereitos afectan tanto ó resumo do traballo como o seu contido Los titulares de los derechos de propiedad intelectual autorizan la visualización del contenido de este trabajo a través de Internet, así como su repoducción, grabación en soporte informático o impresión para su uso privado o con fines de investigación. En ningún caso se permite el uso lucrativo de este documento. Estos derechos afectan tanto al resumen del trabajo como a su contenido