YouTube: ¿Plataforma social o medio de comunicación?. Estudio de su potencial como renovación de los medios tra-dicionales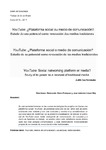 Title
YouTube: ¿Plataforma social o medio de comunicación?. Estudio de su potencial como renovación de los medios tra-dicionales
Alternative Title(s)
YouTube: ¿Plataforma social ou medio de comunicación?. Estudo do seu potencial como renovación dos medios tradicionais
YouTube: Social networking platform or media?. Study of its power as a renewal of traditional media

Author(s)
Directors
Otero Enríquez, Raimundo
López Rey, José A.

Date
2017
Center/Dept./Entity
Universidade da Coruña. Facultade de Socioloxía
Description
Traballo fin de grao (UDC.SOC). Socioloxía. Curso 2016/2017
Abstract
[Resumen] En una sociedad inmersa en las nuevas tecnologías ha surgido con fuerza una plataforma social: YouTube. Se presenta como uno de los sitios web de entre-tenimiento más visitado y con una evolución y cambio muy considerables en sus once años de existencia. En la presente investigación se estudia el poten-cial de YouTube como medio emergente de comunicación. En concreto y a modo de hipótesis de trabajo, se analiza cómo esta plataforma social abarca cada vez más campos comunicativos, y está desarrollando funcionalidades propias de los medios de comunicación más tradicionales.
[Resumo] Nunha sociedade inmersa nas novas tecnoloxías xurdiu con forza unha plataforma social: YouTube. Preséntase como un dos sitios web de entretemento máis visitado e cunha evo-lución e cambio moi considerables nos seus once anos de existencia. Na presente investi-gación estúdase o potencial de YouTube como medio emerxente de comunicación. En concreto e a modo de hipótese de traballo, analízase como esta plataforma social abarca cada vez máis campos comunicativos, e está a desenvolver funcionalidades propias dos medios de comunicación máis tradicionais.
[Abstract] In a society immersed in new technologies has emerged with force a social networking plat-form: YouTube. It is presented as one of the most visited entertaining websites with a very considerable evolution and change in its eleven years of existence. In the present research of YouTube´s potential is studied as an emerging media. Specifically and as a working hypothesis, we analyze how this social platform is increasingly encompassing communica-tive areas, and is developing functionalities typical of more traditional media.
Keywords
Youtube
Medios de comunicación
Usuarios
Redes sociales
Redes sociais
Media
Users
Social networks
Rights
Atribución-NoComercial 3.0 España