La movilidad laboral de las mujeres inmigrantes en España (2007-2013)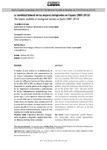 Except where otherwise noted, this item's license is described as Atribución-NoComercial-SinDerivadas 3.0 España
Title
La movilidad laboral de las mujeres inmigrantes en España (2007-2013)
Alternative Title(s)
The labour mobility of immigrant women in Spain (2007-2013)
Date
2017
Citation
Arranz, J. M., Carrasco, C., Massó, M. (2017) La movilidad laboral de las mujeres inmigrantes en España (2007‑2013). Revista Española de Sociología, 26 (3), 329-344.
Abstract
[Resumen:] El objetivo de este artículo es la identificación de las trayectorias laborales más representativas de las mujeres trabajadoras inmigrantes en España durante la crisis económica de los años 2007‑2013. A partir de la Muestra Continua de Vidas Laborales de los años 2007 y 2013 se analiza el papel que desempeña la variable género en la configuración de las trayectorias contractuales y profesionales de los/las trabajadores/as asalariados/as inmigrantes. Los principales resultados se refieren, en primer lugar, a una trayectoria diferencial femenina caracterizada por la inmovilidad contractual y ocupacional y, en segundo lugar, aunque dentro de la norma del mal empleo, una mejor posición de las mujeres durante la crisis en comparación con los varones debido fundamentalmente al peso de este colectivo en el sector de los cuidados.
[Abstract:] The aim of this article is to identify the more representative labour trajectories of foreign women workers who are living in Spain, during the economic crisis, between 2007-2013 years. More specifically the article analyses how gender is shaping contract and professional labour trajectories of workers, using the Continuous Work History Sample for the period 2007- 2013. The main results have to do, firstly, with a differentiating trajectory for foreign women characterised by contractual and occupational immobility. Secondly, the better position of women during the crisis comparing to men, due to, fundamentally the importance of this group in the social care sector. However, this more advantageous situation is still part of the bad employment norm.
Keywords
Trayectorias laborales
Desigualdades de género
Inmigración
Segmentación laboral
Muestra Continua Vidas Laborales
Labour trajectories
Gender inequalities
Immigration
Labour market segmentation
Continuous Work History Sample
Editor version
Rights
Atribución-NoComercial-SinDerivadas 3.0 España
ISSN
1578-2824