O impacto da política de cohesión europea na converxencia real rexional O caso de Galicia (1980-2016)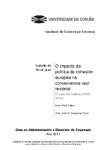 View/Open
Title
O impacto da política de cohesión europea na converxencia real rexional O caso de Galicia (1980-2016)
Author(s)
Directors
Sequeiros Tizón, Julio G.
Date
2017
Center/Dept./Entity
Universidade da Coruña. Facultade de Economía e Empresa
Description
Traballo fin de grao (UDC.ECO). ADE. Curso 2016/2017
Abstract
[Resumo]: O obxectivo deste traballo é analiza-lo impacto da política de cohesión da UE na converxencia real a nivel rexional, centrando a análise no caso galego para o período 1980-2016. En primeiro lugar, analizouse a evolución histórica da política de cohesión europea e os seus obxectivos no período 1986-2016, realizouse unha revisión bibliográfica da literatura científica sobre converxencia e identificáronse os factores determinantes do crecemento rexional e a converxencia real (evolución da poboación e movementos migratorios, dotación de infraestruturas, produtividade aparente do traballo, estrutura produtiva –entendida coma especialización sectorial–, capital humano, taxa de ocupación, capital tecnolóxico e investimento en I+D, grao de apertura comercial). Posteriormente, estudouse se a política de cohesión aplicada en Galicia tivo en conta os factores determinantes da converxencia e se incidiu adecuadamente nos mesmos, sendo a resposta afirmativa. Por outro lado, realizouse unha análise empírica da evolución das Comunidades Autónomas españolas no período 1980-2016. Atopando a existencia de concentración espacial da riqueza e da poboación e un proceso de diverxencia entre as Comunidades Autónomas máis ricas, que crecen por riba da media, e as máis pobres, que crecen por debaixo da media. Proceso ocultado, ó realizar unha análise agregada de σ-converxencia, polo proceso de rápida converxencia de Baleares e Estremadura. Ademais, realizouse unha análise empírica detallada de Galicia, na que se descubre que a converxencia en PIBpc coa media española se produce unicamente pola perda de poboación relativa, xa que Galicia perde peso económico dentro do conxunto do Estado de modo continuado, e que a converxencia en termos de IDH foi máis positiva. Tamén se analizou o papel xogado polos factores determinantes da converxencia galega coa media española considerados máis relevantes, sendo a evidencia empírica consistente coa optida ó analiza-la incidencia da política de cohesión aplicada en Galicia nos mesmos (incidencia positiva).
[Abstract]: The aim of this paper is to analyze the impact of the cohesion policy of the EU in the real convergence at the regional level, focusing the analysis in the Galician case for the period 1980-2016. In the first place, the historical evolution of the European cohesion policy and its objectives in the period 1986-2016 were analyzed, a bibliographical review of the scientific literacy about convergence was conducted, and the key factors of the regional growth and the real convergence were identified (population evolution and migratory movements, infrastructures endowment, apparent productivity of labour, productive structure –understood as sectoral specialization–, human capital, employment rate, technological capital and R&D investment, and degree of trade openness). Subsequently, it was studied if the cohesion policy deployed in Galicia took into account the key factors of the convergence and if the cohesion policy had a positive impact in those, being the answer affirmative. On the other hand, an empirical analysis of the performance of the Spanish Autonomous Communities in the period 1980-2016 was conducted. We founded spatial concentration of the population and of the wealth and a process of divergence between the wealthier Autonomous Communities –those who grow above the mean– and the poorer Autonomous Communities –those who grow under the mean–. When an aggregate analysis of σ-convergence is conducted, this process is masked because of the fast convergence of the Balearic islands and of Extremadura. Also, a detailed empiric analysis of Galicia was conducted, which showed the fact that the convergence of Galicia with the Spanish mean –in terms of PIBpc– only took placed due to the loss of relative population of Galicia, since Galicia lost economic weight in a continuous basis, and the convergence in terms of HDI was more positive. The role played by the key factors of the convergence of Galicia with the Spanish mean was also studied, being the empirical evidence consistent with the results obtained when the analysis of the incidence of the cohesion policy deployed in Galicia was conducted (i.e. positive incidence).
Keywords
Converxencia
Análise rexional
España
Galicia
Comunidades autónomas
Unión Europea
Política de cohesión
Factores de crecemento económico
Convergence
Regional analysis
Spain
Autonomous communities
European Union
Cohesion policy
Economic growth factors
Rights
Os titulares dos dereitos de propiedade intelectual autorizan a visualización do contido deste traballo a través de Internet, así como a súa reproducción, gravación en soporte informático ou impresión para o seu uso privado e/ou con fins de estudo e de investigación. En nengún caso se permite o uso lucrativo deste documento. Estos dereitos afectan tanto ó resumo do traballo como o seu contido Los titulares de los derechos de propiedad intelectual autorizan la visualización del contenido de este trabajo a través de Internet, así como su repoducción, grabación en soporte informático o impresión para su uso privado o con fines de investigación. En ningún caso se permite el uso lucrativo de este documento. Estos derechos afectan tanto al resumen del trabajo como a su contenido