Los isótopos estables de Carbono y Nitrógeno como biomarcadores para la trazabilidad alimentaria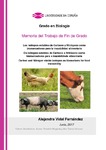 Title
Los isótopos estables de Carbono y Nitrógeno como biomarcadores para la trazabilidad alimentaria
Alternative Title(s)
Os isótopos estables de Carbono e Nitróxeno como biomarcadores para a trazabilidade alimentaria
Carbon and Nitrogen stable isotopes as biomarkers for food traceability

Author(s)
Directors
Grandal-d'Anglade, Aurora
García Vázquez, Ana

Date
2017
Center/Dept./Entity
Universidade da Coruña. Facultade de Ciencias
Abstract
[Resumen] El análisis de isótopos estables mediante espectrometría de masas para relaciones isotópicas (E.M.R.I.) es una herramienta clave en la trazabilidad alimentaria por su potencial para reconstruir la dieta de los animales a partir de los valores isotópicos en los productos cárnicos derivados de ellos. Se tomaron 13 muestras de productos cárnicos de pollo, vacuno y cerdo, algunos de marcas conocidas, otros de marca blanca y otros procedentes de cría particular, con distintos grados de conocimiento sobre los regímenes de alimentación de los animales de los cuales procedían. Se tomaron también muestras de posibles alimentos de interés: bellota, castaña, maíz, pienso y hierba. Todas las muestras (las de carne desengrasadas previamente) fueron cuidadosamente homogeneizadas y enviadas a los Servicios de Apoyo a la Investigación (SAI) de la Universidade da Coruña para el análisis de los isótopos estables de carbono y nitrógeno. Los datos así obtenidos de las muestras de carne y alimentos fueron comparados entre sí y con respecto a datos procedentes de la literatura preexistente. La señal isotópica de 13C resultó útil para comprobar la alimentación a base de maíz en pollos y a base de pasto en vacuno. La señal isotópica de 15N permitió detectar la leche materna en la dieta de terneras y la adición de proteína animal a los piensos en añojo y vacuno. Los análisis no sirvieron para diferenciar de forma fiable a los pollos camperos de los pollos criados en cautividad, ni para identificar de forma concluyente alimentación con bellotas o castañas en cerdos.
[Resumo] A análise dos isótopos estables con espectrometría de masas para relacións isotópicas (E.M.R.I.) é unha ferramenta clave na trazabilidade alimentaria polo seu potencial para reconstruír a dieta dos animais a partir dos valores isotópicos dos produtos cárnicos derivados deles. Tomáronse 13 mostras de produtos cárnicos de polo, vacún e porco, algúns de marcas coñecidas, outros de marca branca e outros procedentes de cría particular, con distintos graos de coñecemento sobre os réximes de alimentación dos animais dos cales procedían. Tomáronse tamén mostras de posibles alimentos de interese: landra, castaña, millo, penso e herba. Todas as mostras (as de carne previamente desengraxadas) foron coidadosamente homoxeneizadas e mandadas aos Servizos de Apoio a Investigación (SAI) da Universidade da Coruña para a análise dos isótopos estables de carbono e nitróxeno. Os datos así obtidos das mostras de carne e alimentos foron comparados entre si e con datos procedentes da literatura preexistente. O sinal isotópico de 13C resultou útil para comprobar a alimentación a base de millo en polos e a base de pasto en vacún. As análises non serviron para diferenciar de maneira fiable aos polos campeiros dos polos criados en cativerio, nin para identificar de forma concluinte alimentación a base de landras ou castañas en porcos.
[Abstract] Stable isotope analysis (S.I.A.) by isotope ratio mass spectrometry (I.R.M.S.) is a key tool for alimentary traceability thanks to its potential for the reconstruction of animal diets using the isotopic values of meat products. 13 samples of poultry, beef and pork meat products were collected, some from well-known brands, some from white-label brands and some from private breeding, with various degrees of knowledge about the feeding regime of the animals from which the products were originated. Samples of useful feeds: acorn, chestnut, corn, grass and commercial feed, were also taken. Every sample (the meat ones being previously degreased) was carefully homogenized and sent to the research support service of Universidade da Coruña for the analysis of stable isotopes of carbon and nitrogen. The obtained data from the meat and feed samples were contrasted with each other and with data from preexisting literature. The isotopic signature of 13C was useful to check the authenticity of corn-fed chicken and grass-fed beef. The isotopic signature of 15N allowed detection of breastfeeding in the diet of cattle and animal protein feeding in older beef animals. In contrast, this method didn't allow an effective discrimination between free-range and barn chickens, nor a certain identification of acorn or chestnut feeding in pigs.
Keywords
Trazabilidad alimentaria
Isótopos estables
13C
15N
Productos cárnicos
Pollo
Cerdo
Vacuno
Alimentary traceability
Stable isotopes
Meat products
Poultry
Pork
Beef
Description
Traballo fin de grao (UDC.CIE). Bioloxía. Curso 2016/2017
Rights
Os titulares dos dereitos de propiedade intelectual autorizan a visualización do contido deste traballo a través de Internet, así como a súa reproducción, gravación en soporte informático ou impresión para o seu uso privado e/ou con fins de estudo e de investigación. En nengún caso se permite o uso lucrativo deste documento. Estos dereitos afectan tanto ó resumo do traballo como o seu contido Los titulares de los derechos de propiedad intelectual autorizan la visualización del contenido de este trabajo a través de Internet, así como su repoducción, grabación en soporte informático o impresión para su uso privado o con fines de investigación. En ningún caso se permite el uso lucrativo de este documento. Estos derechos afectan tanto al resumen del trabajo como a su contenido