Cenizas de fondo de carbón: problemática, caracterización y uso como árido en morteros y hormigones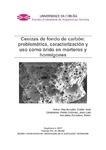 Collections
Title
Cenizas de fondo de carbón: problemática, caracterización y uso como árido en morteros y hormigones
Author(s)
Directors
Pérez Ordóñez, Juan Luis
González Fonteboa, Belén

Date
2017
Center/Dept./Entity
Universidade da Coruña. Escola Universitaria de Arquitectura Técnica
Description
Traballo fin de mestrado (UDC.EUAT). Tecnoloxías de edificación sostible. Curso 2016/2017
Abstract
[Resumen] El sector de la construcción es uno de los que genera mayor contaminación a nivel mundial, tanto residuos sólidos como emisiones de CO2. En concreto, la fabricación de cemento y la de hormigones es una de las actividades con mayor impacto dentro del sector. En este proyecto se busca desarrollar hormigones mas sostenibles y con menor impacto en el entorno, reutilizando las cenizas de fondo de central térmica que hasta ahora eran un residuo y reduciendo la extracción de nuevas áridos evitando el impacto ambiental que esto conlleva. Tras recopilar toda la información posible sobre el uso de las cenizas de fondo y en concreto experiencias previas en su uso en hormigones se decidió realizar un mortero de revestimiento y un hormigón para prefabricados. Planificando realizar otros hormigones en siguientes fases del proyecto de investigación. Para conocer la aptitud de las cenizas de fondo disponibles como sustitutos del árido natural se hizo una extensa campaña de caracterización del material. Una vez realizada se pudieron ajustar las dosificaciones de los morteros y el hormigón. El programa experimental se desarrolla pensando en analizar las características más importantes y las que más pueden variar con la sustitución del árido natural. Estos morteros y hormigones para prefabricados desarrollados tienen un comportamiento muy similar, afectando de la misma manera el uso de cenizas de fondo. Las densidades y resistencias bajan, subiendo a su vez la porosidad, contenido de aire y absorción entre otras características. El análisis de estos resultados muestra la viabilidad del uso de las cenizas de fondo como sustituto del árido natural en algunas de las aplicaciones de los morteros y hormigones para prefabricados.
[Resumo] O sector da construción é un dos que xera maior contaminación a nivel mundial, tanto residuos sólidos como emisións de CO2. En concreto, a fabricación de cemento e a de formigóns é unha das actividades con maior impacto dentro do sector. Neste proxecto búscase desenvolver formigóns mais sustentables e con menor impacto na contorna, reutilizando as cinzas de fondo de central térmica que ata agora eran un residuo e reducindo a extracción de novos áridos evitando o impacto ambiental que isto leva. Tras recompilar toda a información posible sobre o uso das cinzas de fondo e en concreto experiencias previas no seu uso en formigóns decidiuse realizar un morteiro de revestimento e un formigón para prefabricados. Planificando realizar outros formigóns en seguintes fases do proxecto de investigación. Para coñecer a aptitude das cinzas de fondo dispoñibles como substitutos do árido natural fíxose unha extensa campaña de caracterización do material. Unha vez realizada puidéronse axustar as dosificacións dos morteiros e do formigón. O programa experimental desenvólvese pensando en analizar as características máis importantes e as que máis poden variar coa substitución do árido natural. Estes morteiros e formigóns para prefabricados desenvolvidos teñen un comportamento moi similar, afectando da mesma maneira o uso de cinzas de fondo. As densidades e resistencias baixan, subindo á súa vez a porosidade, contido de aire e absorción entre outras características. A análise destes resultados mostra a viabilidade do uso das cinzas de fondo como substituto do árido natural nalgunhas das aplicacións dos morteiros e formigóns para prefabricados.
[Abastract] Construction and civil engineering are known to be responsible for a high pollution percentage worldwide, generating solid wastes and CO2 emissions. Actually, cement production and concrete manufacturing are responsible for most of the environmental footprint in this field. This project aims to develop more sustainable concretes with a lower environmental impact. To carry out this task, bottom ashes recovered from thermal power stations are going to be introduced in different concrete mixes, reducing the need of new aggregates and allowing the re-utilization of a product that, by the moment, was considered a waste. A comprehensive literature review was performed to collect as much information as possible about bottom ashes, focusing the efforts on finding previous experiences about its applicability in concrete manufacturing. Once analyzed the state of art, it was decided to center this study in concrete and mortars suitable for precast applications. Although it was found that bottom ashes are also compatible with other concrete types, these applications will be studied in next phases of this research. One of the main goals of this project was to study the feasibility of replacing part of the natural aggregates of a concrete mix by bottom ashes. For this reason, an exhaustive experimental characterization was executed, allowing the researchers to design and fine-adjust different dosages of concrete and mortars. Once this task was accomplished, the most relevant features of the designed mortars and concretes were analyzed, with a remarkable emphasis on those properties more susceptible to be affected by the aggregate replacement. The mortars and concretes studied in this research work presented a very similar behaviour, the presence of bottom ashes affected their properties in an analogous way. While the density and the strength showed a noticeable decrease, the porosity, air content and water absorption experienced an increment. The further analyses concluded that the replacement of natural aggregates by bottom ashes is possible in some precast applications.
Keywords
Cenizas de fondo
Cenizas de carbón
Mortero
Hormigón
Eco-hormigón
Cinzas de fondo
Cinzas de carbón
Morteiro
Formigón
Eco-formigón
Coal bottom ashes
Mortar
Concrete
Eco-concrete
Rights
Os titulares dos dereitos de propiedade intelectual autorizan a visualización do contido deste traballo a través de Internet, así como a súa reproducción, gravación en soporte informático ou impresión para o seu uso privado e/ou con fins de estudo e de investigación. En nengún caso se permite o uso lucrativo deste documento. Estos dereitos afectan tanto ó resumo do traballo como o seu contido Los titulares de los derechos de propiedad intelectual autorizan la visualización del contenido de este trabajo a través de Internet, así como su repoducción, grabación en soporte informático o impresión para su uso privado o con fines de investigación. En ningún caso se permite el uso lucrativo de este documento. Estos derechos afectan tanto al resumen del trabajo como a su contenido