Peritoneal protein transport during the baseline peritoneal equilibration test is an accurate predictor of the outcome of peritoneal dialysis patients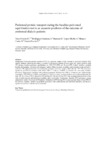 View/Open
Title
Peritoneal protein transport during the baseline peritoneal equilibration test is an accurate predictor of the outcome of peritoneal dialysis patients
Author(s)
Date
2010
Citation
Pérez-Fontán M, Rodríguez-Carmona A, Barreda D. López-Muñiz A, Blanco-Castro N, García-Falcón T. Peritoneal protein transport during the baseline peritoneal equilibration test is an accurate predictor of the outcome of peritoneal dialysis patients. Nephron Clin Pract. 2010;116(2):104-113
Abstract
[Abstract] Background: Peritoneal protein excretion (PPE) is a potential marker of the outcome in peritoneal dialysis (PD) patients. Method: Observational study of a cohort of 269 patients starting PD in a single unit. Study variables: total PPE during a baseline peritoneal equilibration test (PET; PET-PPE) and 24-hour PPE. Control variables: essential baseline demographic, laboratory and adequacy markers. Main outcomes: mortality, cardiovascular events and risk of peritonitis. We applied univariate and multivariate strategies of survival analysis. Main Results: PET-PPE sustained a significant, yet limited correlation with 24-hour PPE (r = 0.46, p < 0.0005). At baseline, the main study variables showed an independent correlation with peritoneal transport characteristics (D/P240' creatinine) and cardiovascular comorbidity. PET-PPE (p < 0.0005, model global χ2 59.4) was a more accurate predictor of overall mortality than 24-hour PPE (p = 0.04, χ2 50.5). Moreover, PPE during PET, but not 24-hour PPE, was an independent predictor of the risks of cardiovascular and infectious mortality, and of peritonitis. Conclusions: Baseline PPE represents a strong independent marker of survival of PD patients. Estimation of PPE during PET is more accurate than 24-hour PPE for this purpose, sustains a definite independent association with cardiovascular and infectious mortality, and shows a significant correlation with the risk of peritonitis.
Keywords
Peritoneal equilibration test
Protein transport
Cardiovascular diseases
Mortality
Peritonitis
Editor version
ISSN
Related items
Showing items related by title, author, creator and subject.
García Gago, L.

;

Bravo González-Blas, L.

;

Otero Alonso, P.

;

López Iglesias, A.

;

García Enríquez, A.

;

Rodríguez-Carmona, Ana

;

García Falcón, María Teresa

;

Pérez-Fontán, Miguel

(

Elsevier

,

2018

)

Mondelo Macía, Patricia

(

2017

)

[Resumen] La diálisis peritoneal es una de las terapias utilizadas como tratamiento contra la enfermedad renal crónica (ERC). Esta técnica se caracteriza por utilizar el propio peritoneo de los pacientes como una membrana ...

López Pardo, Mirian

(

2020

)

[Resumen]: La diálisis peritoneal es uno de los tratamientos a los que los pacientes con una enfermedad renal crónica pueden ser sometidos. Pese a sus beneficiosas ventajas frente la hemodiálisis, es menos empleada, ...