Migración ecuatoriana y estrategias familiares de movilidad social: la relación dialéctica entre el capital financiero y emocional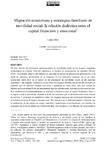 View/Open
Title
Migración ecuatoriana y estrategias familiares de movilidad social: la relación dialéctica entre el capital financiero y emocional
Alternative Title(s)
Ecuadorian migration and family strategies of social mobility: dialectic relation between emotional and financial capital
Author(s)
Date
2016
Citation
Oso, L. (2016). Migración ecuatoriana y estrategias familiares de movilidad social: la relación dialéctica entre el capital financiero y emocional. Investigaciones Feministas, 7(1), pp.221-240.
Abstract
[Resumen]: El texto aborda las estrategias transnacionales de movilidad social de los hogares migrantes ecuatorianos en España. Para ello aplicamos el modelo de acumulación de capitales (Moser, 2009). El principal objetivo del artículo es, más allá de pensar en términos de acumulación y de stock de capitales, profundizar en la dinámica de los diferentes capitales en sí, en cómo interactúan entre ellos en el marco de las estrategias de movilidad social de las personas migrantes y sus familias. Sacamos a la luz cómo los hogares adoptan decisiones de inversión en capitales que no suponen siempre una suma o ganancia en todos ellos, sino que centrar las fuerzas en la acumulación de un determinado tipo de capital puede suponer un retroceso en otro. Nos centraremos fundamentalmente en analizar la dinámica entre el capital financiero, físico y el capital social y emocional, sacando a la luz las tensiones que se producen entre estas formas de activos. Y poniendo de manifiesto cómo los hogares negocian las estrategias familiares de movilidad social en el espacio transnacional. Nos basamos en el material empírico obtenido tras la realización de un trabajo de campo cualitativo (entrevistas en profundidad) con familias de migrantes en el barrio urbano de Turubamba Bajo (sur de Quito) y en Madrid. Se seleccionaron una serie de hogares con los cuales se llevaron a cabo entrevistas, tanto en el país de origen como en el contexto de inmigración, con los distintos miembros de la familia, analizando las estrategias económicas y sociales transnacionales de familias de personas migrantes. En Quito se entrevistó, tanto a familiares de migrantes asentados en España, como a informantes clave del barrio (maestras de escuela, personal de la guardería, etc.). La investigación se enmarcó dentro de los proyectos "El impacto de la migración en el desarrollo: género y transnacionalismo", Ministerio de Ciencia e Innovación (SEJ2007/63179) (Oso dir. 2007-2010) y "Género, transnacionalismo y estrategias intergeneracionales de movilidad social Ministerio de Economía y Competitividad (FEM2011/26210) (Oso dir., 2011-2015). Así como en el proyecto de reciente aprobación "Genero, movilidades cruzadas y dinámicas transnacionales", Ministerio de Economía y Competitividad (FEM2015-67164)
[Abstract]: This text deals with transnational strategies of social mobility in Ecuadorian migrant households in Spain. We apply the capital accumulation model (Moser, 2009) for this purpose. The main target of this article is, beyond thinking in terms of capital stock and accumulation, the analysis in depth of the dynamics of the different types of capital, that is to say, how they interact with each other in the framework of the social mobility strategies of the migrants and their families. We are bringing into light the way some households adopt investing decisions in capitals that don't translate into any addition or earnings in all cases, on the contrary, concentrating all their efforts on the accumulation of a certain asset they may, in some cases, lead to a loss of another. We will concentrate our analysis primarily on the dynamics between the physical and financial capital and the social and emotional capital, showing the tensions produced between these two types of assets. At the same time, we will highlight how migrants negotiate their family strategies of social mobility in the transnational area. Our study is based in empirical material obtained from qualitative fieldwork (in-depth interviews) with families of migrants in the urban district of Turubamba Bajo -(south of Quito) and in Madrid. A series of households were selected where interviews were carried out in the country of origin as well as in the context of immigration, with different family members, analysing the transnational social and economic strategies of families of migrant members. Family members of migrants established in Spain were interviewed in Quito, as well as key informants in the district (school teachers, nursery members of the staff, etc.). The research was framed within the projects "Impact of migration on the development: gender and transnationalism", Ministry of Science and Innovation (SEJ2007/63179) (Laura Oso, dir. 2007-2010),"Gender, transnationalism and intergenerational strategies of social mobility", Ministry of Economy and Competitiveness (FEM2011/26210) (Laura Oso, dir. 201-1-2015) and "Gender, Crossed Mobilities and Transnational Dynamics", Ministry of Economy and Competitiveness (FEM2015-67164).
Keywords
Migración ecuatoriana
Género
Desarrollo
Remesas
Familias transnacionales
Ecuadorian migration
Gender
Development
Remittances
Transnational families
Editor version
Rights
Reconocimiento 4.0 Internacional
Universidad Complutense de Madrid
ISSN
2171-6080