La radio móvil en España: tendencias actuales en las apps para dispositivos móviles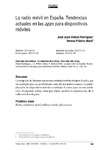 Title
La radio móvil en España: tendencias actuales en las apps para dispositivos móviles
Alternative Title(s)
Mobile Radio in Spain: Current Tendencies in Mobile Apps
Date
2013-04
Citation
Videla-Rodriguez, J. J., Piñeiro-Otero, T. Abril de 2013. La radio móvil en España. Tendencias actuales en las apps para dispositivos móviles. Palabra Clave 16 (1), 129-153.
Abstract
[Resumen]: La irrupción de Internet supuso una auténtica revolución para la radio, que vio multiplicadas sus posibilidades más allá del ámbito sonoro. La multiplicación de dispositivos móviles constituye el nuevo paso en esta evolución. El presente trabajo tiene por objeto analizar la implantación de la radio móvil en España.
[Abstract]: The invasion of the Internet brought on a genuine revolution to the radio by multiplying its scope far beyond the sound field. The multiplied increase in mobile devices is but a fresh step in this process. This text discusses the establishing of mobile radio in Spain.
Keywords
Radio
Radiofonía móvil
Teléfono móvil
Aplicaciones
Mobile radio
Mobile phone
Applications
Editor version
Rights
Atribución 3.0 España
ISSN
0122-8285