Materia y forma en Agudeza y arte de ingenio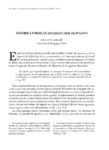 View/Open
Collections
Title
Materia y forma en Agudeza y arte de ingenio
Author(s)
Date
2009
Citation
Conceptos revista de investigación graciana 2009, 6: 45-66 ISSN: 1697-2775
Abstract
[Resumen] Este trabajo se propone estudiar la importancia del esquema hilemórfico en la descripción del proceso de creación de las agudezas. Al acudir al marco teórico del compuesto de materia y de forma que domina la metafísica de Aristóteles, Gracián procura definir con la mayor precisión posible la génesis del sentido: cada concepto creado es un acto único que se apoya en un proceso de individuación. La forma confiere sabrosa y a veces lúdicamente a los objetos del lenguaje su unicidad. Sin embargo, la Agudeza, por la jerarquización de formas discursivas que presenta a su lector, impide toda lectura unívoca y reductora de la utilización de estos dos conceptos: cada forma creada parece someterse a otra forma más refinada y rebuscada aún, y la Agudeza se asemeja entonces a una constelación de formas ingeniosas. Así el tratado graciano deja transparentar un formalismo que no puede ser disociado en ningún caso de una antropología que afirma la perfectibilidad del hombre.
[Sommaire] Ce travail se propose d'étudier l'importance du schème hylémorphique dans la description du processus de création des pointes. En recourant au cadre théorique du composé de matière et de forme qui domine la métaphysique aristotélicienne, Gracián tente de décrire au plus près la genèse du sens: chaque concepto créé est un acte unique qui relève d'un processus d'individuation. La forme confère savoureusement et parfois ludiquement aux objets du langage leur unicité. Cependant, la Agudeza, par la hiérarchisation de formes discursives qu'elle présente à son lecteur, interdit toute lecture univoque et réductrice de l'utilisation de ces deux concepts: chaque forme créée semble en effet se soumettre à une autre forme encore plus raffinée et recherchée, et la Agudeza s'apparente dès lors à une constellation de formes ingénieuses. Aussi le traité de Gracián laisse-t-il transparaître un formalisme qui ne peut en aucune façon être disjoint d'une anthropologie qui affirme la perfectibilité de l'homme.
[Abstract] This work aims to study the importance of the hylemorphic scheme in the process of creating witticisms. Appealing to an Aristotelian frame – the idea of mixing matter and form to create a substance –, Gracián intends to describe the genesis of sense: each concepto is a singular creation that reveals a process of individuation. The form awards to each object of language its uniqueness. However, because the Agudeza tends to organize all the discursive forms into a clear hierarchy, this treaty prevents the reader from having a simplistic vision of these two concepts, matter and form: each form is subjected to another, and the Agudeza evokes a constellation of ingenuous forms. Thus, Gracián's treaty reveals a formalism which cannot be separated from an anthropology based on human perfectibility.
Keywords
Baltasar Gracián
Siglo de Oro
Aristóteles
Hilemorfismo
Concepto
Baltasar Gracián
Siècle d'Or espagnol
Aristote
Hylémorphisme
Concepto
Baltasar Gracián
Spanish Golden Age
Aristotle
Hylemorphism
Concepto
ISSN
1697-2775