Filosofía, escritura y autenticidad. Algunos apuntes a propósito de Nietzsche y Wittgenstein.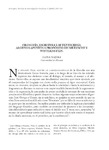 View/Open
Collections
Title
Filosofía, escritura y autenticidad. Algunos apuntes a propósito de Nietzsche y Wittgenstein.
Author(s)
Date
2008
Citation
Conceptos revista de investigación graciana, 5: 105-121 ISSN 1697-2775
Abstract
[Resumen] Nietzsche y Wittgenstein protagonizan dos tradiciones filosóficas muy diferentes. Sin embargo, comparten un modo de escribir fragmentario que obliga a repensar la importancia que tiene la forma literaria que se le da al pensamiento. Motivados por la crítica al igualitarismo y al cientificismo de la cultura occidental, los estilos de ambos autores cuestionan la capacidad del lenguaje ordinario y buscan en el dominio intuitivo —y casi inefable— de la estética y de la religión una clave hermenéutica que facilite la expresión de la autenticidad. El texto analiza las escrituras de Nietzsche y Wittgenstein, así como las condiciones de lectura que exigen, con la intención de poder determinar además si el segundo fue un buen lector del primero.
[Sommaire] Nietzsche et Wittgenstein sont les protagonistes de deux traditions philosophiques très différentes. Cependant, ils partagent un style fragmentaire d'écriture qui oblige à repenser l'importance de la forme littéraire accordée à la pensée. Motivés par la critique à l'égalitarisme et à la scientificité de la culture occidentale, les styles des deux auteurs questionnent la capacité du langage ordinaire et cherchent dans le domaine intuitif - et presque ineffable - de l'esthétique et de la religion une clé herméneutique qui facilite l'expression de l'authenticité. Le texte analyse les écritures de Nietzsche et de Wittgenstein, ainsi que les conditions de la lecture qu'ils exigent, avec l'intention de pouvoir déterminer de plus si le deuxième fut un bon lecteur du premier.
[Abstract] Nietzsche and Wittgenstein lead two very different philosophical traditions. Nevertheless, they share a fragmentary way of writing that forces us to rethink the importance of the literary form that is given to thought. Motivated by the critique against the egalitarian and scientific spirit of the western culture, the styles of both authors put into question the ability of ordinary language and look for a hermeneutic key that allows the expression of authentity in the intuitive —and almost indescribable— field of aesthetics and religion. This paper analyzes Nietzsche´s and Wittgenstein´s writings as well as the reading instructions that they give, trying to determine in addition if the latter was a good reader of the former.
Keywords
Historia conceptual
Nietzsche
Wittgenstein
Escritura filosófica
Lectura
Autenticidad
Histoire conceptuelle
Nietzsche
Wittgenstein
Écriture philosophique
Lecture
Authenticité
Conceptual history
Nietzsche
Wittgenstein
Philosophical writing
Reading
Authentity
ISSN
1697-2775