Der evolutionsgedanke in schellings naturphilosophie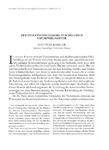 View/Open
Collections
Title
Der evolutionsgedanke in schellings naturphilosophie
Author(s)
Date
2008
Citation
Conceptos revista de investigación graciana, 5: 65-76 ISSN 1697-2775
Abstract
[Resumen] En esta contribución se defiende la tesis de que la filosofía de la naturaleza de F. W. J. Schelling puede ser interpretada como un intento, anterior al de Darwin, de fundar filosóficamente una teoría científica de la evolución. Partiendo del problema del azar y de la finalidad en la naturaleza se muestra el desarrollo de la idea básica de evolución en Schelling desde Kant. La aproximación contenida en esa idea a una ontología procesual es de interés incluso para las discusiones actuales sobre la teoría de la evolución, aun cuando cabe considerar como superada la forma concreta de la filosofía de la naturaleza del idealista alemán.
[Sommaire] Dans cette contribution est défendue la thèse dont la philosophie de la nature de F. W. J. Schelling peut être interprétée comme une tentative, antérieure à celle de Darwin, de fonder philosophiquement une théorie scientifique de l'évolution. En partant du problème du hasard et de la finalité dans la nature on montre le développement de l'idée basique de l'évolution chez Schelling depuis Kant. L'approche à une ontologie processuelle contenue dans cette idée est d'un intérêt pour les actuelles discussions sur la théorie de l'évolution, même s'il faut considérer comme étant dépassée la forme concrète de la philosophie de la nature de l'idéaliste allemand.
[Abstract] In this paper I try to show that the philosophy of nature of F. W. J. Schelling can be considered to be an attempt to substantiate a scientific theory of evolution before Darwin. Starting from the problem of accident and suitability in nature the basic idea of evolution in Schelling is developed going back to Kant. The examination shows that the approach of an ontology that is based on processes is contained within this idea. This may still be of interest in actual debates on the theory of evolution, even if the definite form of Schellsophy oing's philof nature is to be regarded as outdated.
Keywords
Historia conceptual
Evolución
Proceso
Finalidad
Kant
Schelling
Histoire conceptuelle
Évolution
Processus
Finalité
Kant
Schelling
Conceptual history
Evolution
Process
Suitability
Kant
Schelling
ISSN
1697-2775