El secreto de la amistad: la dialéctica de la ilustración en Lessing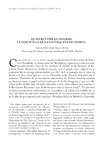 View/Open
Collections
Title
El secreto de la amistad: la dialéctica de la ilustración en Lessing
Author(s)
Date
2008
Citation
Conceptos revista de investigación graciana, 5: 51-64 ISSN 1697-2775
Abstract
[Resumen] Mi contribución examina la relación de atracción y repulsión entre la historia conceptual (Begriffsgeschichte) y la Ilustración, y más concretamente, con motivo de una nueva edición española en 2007 de Crítica y crisis. Un estudio sobre la patogénesis del mundo burgués, analiza la exégesis que Reinhart Koselleck propone de la Filosofía de la Historia de G. E. Lessing. La tentativa del historiador de Bielefeld de convertir al bibliotecario de Wolfenbüttel en un conspirador político, en un catalizador de la Revolución, debe ser matizada y corregida merced a un escrutinio del significado del arcano, que revela una tensión incancelable entre política y amistad, entre ciudadanía y masonería esencial. La tesis de la derivación belicista y terrorista de la Ilustración (el caso de Lessing es ejemplar) no está fundada rigurosamente.
[Sommaire] Ma contribution examine la relation d'attraction et de répulsion entre l'histoire conceptuelle (Begriffsgeschichte) et Les Lumières, et plus concrètement, à propos d'une nouvelle édition espagnole en 2007 de Crítica y crisis. Un estudio sobre la patogénesis del mundo burgués. Elle analyse l'exégèse que Reinhart Koselleck propose à propos de la Philosophie de l'histoire de G. E. Lessing. La tentative de l'historien de Bielefeld de convertir le bibliothécaire de Wolfenbüttel en conspirateur politique, en catalyseur de la Révolution, doit être nuancée et corrigée grâce à un scrutin du signifié du arcane, qui révèle une tension permanente entre politique et amitié, entre citoyenneté et franc-maçonnerie essentielle. La thèse de la dérivation belliciste et terroriste des Lumières (le cas de Lessing est exemplaire) n'est pas fondée avec rigueur.
[Abstract] My contribution examines the attraction-repulsion relation between conceptual history (Begriffsgeschichte) and the Enlightenment; particularly, on the occasion of a new Spanish translation in 2007 of Crítica y crisis. Un estudio sobre la patogénesis del mundo burgués, it analyses the exegesis proposed by Reinhart Koselleck of G. E. Lessing's philosophy of history. The attempt by the Bielefeld historian to transform the Wolfenbüttel librarian into a political conspirator, a catalyst of the Revolution, should be corrected and given some nuances through a study of the meaning of arcanum, which reveals an unremovable tension between politics and friendship, between citizenship and essential freemasonry. The thesis of a belicist and terrorist derivation of the Enlightenment (Lessing's case is exemplary) is not rigorously founded.
Keywords
Historia conceptual
Ilustración
Filosofía de la historia
Amistad
Arcano
Lessing
Histoire conceptuelle
Siècle des lumières
Philosophie de l'histoire
Amitié
Arcane
Lessing
Conceptual history
Enlightenment
Philosophy of history
Friendship
Arcanum
Lessing
ISSN
1697-2775