La tensión entre concepto y palabra: a propósito del concepto de "ciencia política" en el siglo XVII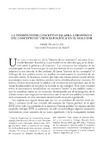 View/Open
Collections
Title
La tensión entre concepto y palabra: a propósito del concepto de "ciencia política" en el siglo XVII
Author(s)
Date
2008
Citation
Conceptos revista de investigación graciana, 5: 13-25 ISSN 1697-2775
Abstract
[Resumen] El artículo analiza críticamente la interpretación dominante de que la calificación de la política como ciencia en Álamos de Barrientos y otros autores españoles de la época implicaba una novedad conceptual y una ruptura con la tradición aristotélica. Con la exposición del concepto de ciencia política en Aristóteles y en su recepción medieval se muestra que estos autores españoles no están fuera de esa tradición.
[Sommaire] L'article analyse d'une façon critique l'interprétation dominante selon laquelle la définition de la politique en tant que science – comme l'avaient fait Álamos de Barrientos et d'autres auteurs espagnols de la même époque – impliquait à la fois une nouveauté conceptuelle et une rupture avec la tradition aristotelicienne. Avec l'exposition du concept de science politique chez Aristote et sa réception médiévale, il apparaît que ces auteurs espagnols ne se situent pas en dehors de cette tradition.
[Abstract] The present article proposes a critical analysis of the traditional interpretation which puts forward that the fact to define politics as a science – as Álamos de Barrientos and other Spanish authors of the same era did – supposed a conceptual novelty and rupture with the Aristotelian tradition. By the examination of Aristotle's political science concept and its medieval reception it is possible to show that these Spanish authors were not out of this tradition.
Keywords
Historia conceptual
Ciencia política
Álamos de Barrientos
Aristóteles
Histoire conceptuelle
Science politique
Álamos de Barrientos
Aristote
Conceptual history
Political science
Álamos de Barrientos
Aristotle
ISSN
1697-2775