Discurrir a dos vertientes. De Baltasar Gracián a Benito Pelegrín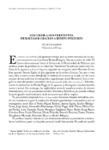 View/Open
Collections
Title
Discurrir a dos vertientes. De Baltasar Gracián a Benito Pelegrín
Author(s)
Date
2007
Citation
Conceptos revista de investigación graciana, 4: 77-82 ISSN 1697-2775
Abstract
[Resumen] Con ocasión de la jubilación como profesor de la Université de Provence I, se ofrece un breve homenaje a Benito Pelegrín en forma de comentario de sus trabajos. Se analizan sus tesis interpretativas y la influencia de las mismas. Se revisa su labor como escritor, editor y traductor de las obras de Baltasar Gracián.
[Sommaire] À l'occasion de la retraite comme professeur de l'Université de Provence I, nous consacrons un bref hommage à Benito Pelegrín sous la forme d'un commentaire relatif à l'ensemble de ses travaux. Ses thèses interprétatives et leur influence sont analysées. Sont ainsi étudiés les travaux de l'écrivain, de l'éditeur et du traducteur des oeuvres de Baltasar Gracián.
[Abstract] On the occasion of his retirement as a teacher at the Université de Provence I, a brief homage (in the shape of commentary of his works) is paid to Benito Pelegrín. His interpretive theses and their influence are analyzed. His work as a writer, an editor and a translator of Baltasar Gracián's works is revised.
Keywords
Baltasar Gracián
Benito Pelegrín
Siglo de Oro
Baltasar Gracián
Benito Pelegrín
Siècle d'Or espagnol
Baltasar Gracián
Benito Pelegrín
Spanish Golden Age
ISSN
1697-2775