La traza de Giorgione y la última treta de Gracián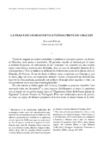 View/Open
Collections
Title
La traza de Giorgione y la última treta de Gracián
Author(s)
Date
2006
Citation
Conceptos revista de investigación graciana 2006, 3: 51-67 ISSN: 1697-2775
Abstract
[Resumen] El artículo analiza la deuda de Gracián respecto a la tradición pictórica y, en particular, respecto al concetto pictórico -nacido de la confrontación entre pintura y escultura- de traza del pintor veneciano Giorgione (1477/78-1510). La treta de Gracián es la utilización literaria de la anamorfosis cilíndrica mediante una inversión del sistema de la traza en la dedicatoria de la tercera parte de El Criticón. El uso que Gracián hace de la traza permite una triple interpretación (noética, ética y estética) para releer el sentido definitivo de El Criticón que queda relegado más allá de la escritura.
[Sommaire] L'article analyse la dette de Gracián par rapport à la tradition picturale et, en particulier, par rapport au concetto pictural - né de la confrontation entre peinture et sculpture - de traza du peintre vénitien Giorgione (1477/78-1510). La ruse de Gracián est l'utilisation littéraire de l'anamorphose cylindrique au moyen d'une inversion du système de traza dans la dédicace de la troisième partie du Criticón. L'usage que Gracián fait de la traza permet une triple interprétation (noétique, étique et esthétique) pour relire le sens définitif du Criticón qui reste relégué au-delà de l'écriture.
[Abstract] The article analyzes Gracián's indebtedness to the pictorial tradition and, especially, with regard to the pictorial concetto - born of the confrontation between painting and sculpture - of trace put forward by the Venetian painter Giorgione (1477/78-1510). Gracián's trick is the literary use of the cylindrical anamorphosis by means of an investment of the system of the trace in the dedication of the third part of El Criticón. Gracián's use of the trace allows a triple interpretation (noethics, ethics and aesthetics) to reread the definitive sense of El Criticón who remains relegated to a sphere beyond the writing.
Keywords
Baltasar Gracián
Siglo de Oro
Humanismo
Pintura
Giorgione
Baltasar Gracián
Siècle d'Or espagnol
Humanisme
Peinture
Giorgione
Baltasar Gracián
Spanish Golden Age
Humanism
Painting
Giorgione
ISSN
1697-2775