BDSMK: lo que no se muestra en 50 Sombras de Grey: consenso y placer, estudio de su comunidad en España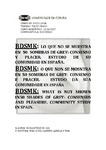 Title
BDSMK: lo que no se muestra en 50 Sombras de Grey: consenso y placer, estudio de su comunidad en España
Alternative Title(s)
BDSMK: o que non se mostra en 50 Sombra de Grey: consenso e pracer, estudo da súa comunidade en España
BDSMK: what in not shown in 50 Shades of Grey: consensus and pleasure, community study in Spain

Author(s)
Directors
Lamela, Carmen
Date
2016
Center/Dept./Entity
Universidade da Coruña. Facultade de Socioloxía
Description
Traballo fin de grao (UDC.SOC). Socioloxía. Curso 2016/2017
Abstract
[Resumen] Durante muchos años la sexualidad ha permanecido encerrada en la esfera privada y vista como la única forma de dar continuidad a la especie humana. Cualquier sexualidad que no tuviera fines reproductivos era condenada. Hoy en día los tiempos han cambiado y ya no se condena la sexualidad que tiene como fin el disfrute de los individuos, pero a pesar de esto hay un conjunto de prácticas sexuales que todavía siguen siendo prejuzgadas por el hecho de hallar placer de una forma distinta a la convencional, son las prácticas BDSMK. Este trabajo pues intenta profundizar en las prácticas BDSMK y en su comunidad esbozando así sus características. ¿Cómo entran en contacto con este mundo? ¿Cómo se sienten sus practicantes?, ¿cómo los ve la sociedad? Estas son algunas de las preguntas que trataremos de responder en esta investigación.
[Resumo] Durante moitos anos a sexualidade permaneceu encerrada na esfera privada e vista como a única forma de dar continuidade á especie humana. Calquera sexualidade que non tivese fins reprodutivos era condenada. Hoxe en día os tempos cambiaron e xa non se condena a sexualidade que ten como fin o goce dos individuos, pero a pesar disto hai un conxunto de prácticas sexuais que aínda seguen sendo prexulgadas polo feito de achar pracer dunha forma distinta á convencional, son as prácticas BDSMK. Este traballo pois tenta profundar nas prácticas BDSMK e na súa comunidade esbozando así as súas características. Como entran en contacto con este mundo? Como senten os seus practicantes?, como os ve a sociedade? Estas son algunhas das preguntas que trataremos de responder nesta investigación.
[Abstract] Through the years, sexuality has remained enclosed in the private sphere and seen as the only way to give continuity to human species. Any sexuality that had not a reproductive purpose was condemned. Nowadays, times have changed; sexuality that has the pure enjoyment of the individuals as an unique aim is no longer condemned .Nevertheless, there is a set of sexual practices that still being prejudged by the fact of finding pleasure through a different form from the conventional one. These are the BDSMK practices. This work tries to focus into the BDSMK practices and it's community by describing his characteristics. How do they enter in touch with this world? How do his medical instructors feel? , how does the society see them? These are some of the questions that we will try to answer in this investigation.
Keywords
Sexualidad
Sexología
Sadomasoquismo
BDSM
Sexo
Kink
Dominación
Sumisión
Sexualidade
Sexoloxía
Submisión
Sexuality
Sexology
Sadomasochism
Sex
Domination
Submission
Rights
Os titulares dos dereitos de propiedade intelectual autorizan a visualización do contido deste traballo a través de Internet, así como a súa reproducción, gravación en soporte informático ou impresión para o seu uso privado e/ou con fins de estudo e de investigación. En nengún caso se permite o uso lucrativo deste documento. Estos dereitos afectan tanto ó resumo do traballo como o seu contido Los titulares de los derechos de propiedad intelectual autorizan la visualización del contenido de este trabajo a través de Internet, así como su repoducción, grabación en soporte informático o impresión para su uso privado o con fines de investigación. En ningún caso se permite el uso lucrativo de este documento. Estos derechos afectan tanto al resumen del trabajo como a su contenido