Medidas para la reducción de gases contaminantes en motores marinos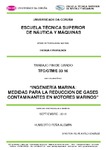 Collections
Title
Medidas para la reducción de gases contaminantes en motores marinos
Author(s)
Directors
Antelo González, Felipe
Date
2016
Center/Dept./Entity
Universidade da Coruña. Escola Técnica Superior de Náutica e Máquinas
Description
Traballo fin de grao (UDC.ETSNEM). Tecnoloxías Mariñas. Enerxía e Propulsión. Curso 2016/2017
Abstract
[Resumen] Las emisiones provenientes de los buques representan el 3% del total de la industria y van en aumento. La exposición a estos tóxicos causa problemas cardiovasculares y respiratorios. A través de la liberación de gases de efecto invernadero (GHG) la industria naval contribuye al cambio climático. Se han ofrecido múltiples soluciones a los armadores para cumplir con las cada día más exigentes normativas. Para contrarrestar los GHG, se construyen motores más eficientes y mejores diseños de propulsores. El uso de combustibles de bajo contenido en azufre, gas natural y torres de lavado (scrubbers) para los gases son algunas opciones para hacer frente a las lluvias ácidas.
[Abstract ] Shipping emissions represent 3% of the world's air emissions and the industry's share is increasing. Exposure to toxic emissions cause cardiovascular and respiratory diseases. Through the release of greenhouse gases (GHG), the industry also contributes to climate change. A number of solutions will enable ship owners to comply with the more stringent regulations. To tackle GHG emissions, fuel-efficient engines and propelling systems are the most promising technologies. Lowsulphur fuel, liquid natural gas, and scrubbers will be three options for compliance with regulations governing sulphur oxide emissions.
[Resumo ] As emisións que veñen dos buques representan o 3% do total da industria e van en aumento. A exposición a estes tóxicos causa problemas cardiovasculares e respiratorios. A industria naval libera grandes cantidades de gases de efecto invernadoiro (GHG) que contribúen significativamente ó cambio climático. Para facer fronte ós GHG constrúense motores mais eficientes xunto con novos propulsores. A utilización de combustibles de baixo contido en azufre, o gas natural ou as torres de lavado (scrubbers) para os gases de escape son algunhas das opcions que poden reducir as chuvias ácidas.
Keywords
Motores marinos
Gas natural
Combustión
Polución del aire
Liberación de gases
Medio ambiente
Rights
Os titulares dos dereitos de propiedade intelectual autorizan a visualización do contido deste traballo a través de Internet, así como a súa reproducción, gravación en soporte informático ou impresión para o seu uso privado e/ou con fins de estudo e de investigación. En nengún caso se permite o uso lucrativo deste documento. Estos dereitos afectan tanto ó resumo do traballo como o seu contido Los titulares de los derechos de propiedad intelectual autorizan la visualización del contenido de este trabajo a través de Internet, así como su repoducción, grabación en soporte informático o impresión para su uso privado o con fines de investigación. En ningún caso se permite el uso lucrativo de este documento. Estos derechos afectan tanto al resumen del trabajo como a su contenido