Perception of Journalistic Content Printed on Paper and on an iPad Case Study: La Voz de Galicia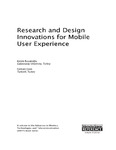 Collections
Title
Perception of Journalistic Content Printed on Paper and on an iPad Case Study: La Voz de Galicia
Date
2014
Citation
Sanjuán Pérez, A., Nozal Cantarero, T. and González Neira, A. (2014). Perception of Journalistic Content Printed on Paper and on an iPad Case Study: La Voz de Galicia. In: K. Rızvanoğlu and G. Çetin, ed., Research and Design Innovations for Mobile User Experience, 1st ed. [online] Hershey: IGI Global. Available at: http://www.igi-global.com/book/research-design-innovations-mobile-user/75834 [Accessed 6 Oct. 2016].
Abstract
[ABSTRACT]: The introduction of digital tablets and the reduction in their price has meant that the newspaper publishing market has had to adapt itself to a new medium with a heretofore unseen different concept of design and use that is a hybrid between print content and a Web page. The aim of this comparative study is to investigate the reading experience of users in two different media: the print version of a newspaper and a rich PDF version of that newspaper distributed on the iPad. The study aims to contribute to the developing digital news industry with relevant findings regarding the features of current news applications. The study focuses on La Voz de Galicia, a regional daily newspaper with a circulation of more than one hundred thousand copies per day. In this study, we draw conclusions regarding the level of interactivity and multimedia content that the sample group demands from newspaper-related tablet applications, the difference in perception of the journalistic content based on whether the medium is paper or the iPad and the intent to purchase the product. This information is particularly relevant given that it has been obtained from future adults who within a few years will be in a context in which the trend in paid journalistic consumption will decrease while the penetration of tablets in the market will increase.
Editor version
Rights
Copyright © 2014 by IGI Global. All rights reserved. No part of this publication may be reproduced, stored or distributed in any form or by any means, electronic or mechanical, including photocopying, without written permission from the publisher. Product or company names used in this set are for identification purposes only. Inclusion of the names of the products or companies does not indicate a claim of ownership by IGI Global of the trademark or registered trademark.
ISBN
978-1-4666-4446-5