Near-Field Quasi-Null Control with Far-Field Sidelobe Level Maintenance in Line Source Distributions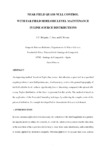 View/Open
Title
Near-Field Quasi-Null Control with Far-Field Sidelobe Level Maintenance in Line Source Distributions
Date
2002-06-06
Citation
J.C. Bregains ; F. Ares ; E. Moreno "Near-field quasi-null control with far-field sidelobe level maintenance in line source distributions", Electronics Letters, 540 - 541 Volume: 38, Issue: 12 , 6 Jun. 2002. DOI: 10.1049/el:20020394
Abstract
[Abstract] An improving method, based on the Taylor line source, that allocates a quasi-null in a specified angular position of near-field pattern, and simultaneously controls the general topography of the far-field sidelobe level without significant loss of directivity, compared with optimal efficiency Taylor distribution, of the latter, is presented. The method is based on the application of the simulated annealing technique, by achieving the complex roots of the pattern distribution. An example is developed that demonstrates this accomplishment.
Keywords
Directive antennas
Antenna radiation patterns
Simulated annealing
Antenna theory
Description
This paper is a postprint of a paper submitted to and accepted for publication in journal Electronics Letters and is subject to Institution of Engineering and Technology Copyright. The copy of record is available at IET Digital Library.
ISSN
0013-5194