Synthesis of Multiple-Pattern Planar Antenna Arrays with Single Prefixed or Jointly Optimized Amplitude Distributions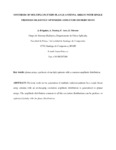 View/Open
Title
Synthesis of Multiple-Pattern Planar Antenna Arrays with Single Prefixed or Jointly Optimized Amplitude Distributions
Author(s)
Date
2002-01-05
Citation
Brégains, J. C.; Trastoy, A.; Ares Pena, F. J.; Moreno Piquero, E. "Synthesis of multiple-pattern planar antenna arrays with single prefixed or jointly optimized amplitude distributions", Microwave and Optical Technology Letters, 74 - 78 Volume: 32, Issue: 1 , 5 Jan. 2002
Abstract
[Abstract] Previous work on the generation of multiple radiation patterns by a single linear array antenna with an unchanging excitation amplitude distribution is generalized to planar arrays. The amplitude distribution common to all of the excitation distributions can be prefixed or optimized jointly with the phase distributions.
Keywords
Planar arrays
Synthesis of multiple patterns with a common amplitude distribution
Description
This is the peer reviewed version of the following article:Brégains, J. C.; Trastoy, A.; Ares Pena, F. J.; Moreno Piquero, E. "Synthesis of multiple-pattern planar antenna arrays with single prefixed or jointly optimized amplitude distributions", Microwave and Optical Technology Letters, 74 - 78 Volume: 32, Issue: 1 , 5 Jan. 2002, which has been published in final form at DOI: 10.1002/mop.10094. This article may be used for non-commercial purposes in accordance with Wiley Terms and Conditions for Self-Archiving."
Editor version
ISSN