Synthesis of Multi-Radial Line Antenna for HIPERLAN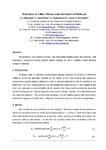 Except where otherwise noted, this item's license is described as Atribución-NoComercial-SinDerivadas 3.0 España
Title
Synthesis of Multi-Radial Line Antenna for HIPERLAN
Author(s)
Date
2003-08
Citation
J.C. Brégains; F. Ares-Pena; G. Franceschetti; A.G. Roederer "Synthesis of multi-radial line antenna for HIPERLAN", Electronics Letters, 1162 – 1163 Volume: 39, Issue: 16, Aug. 2003. DOI: 10.1049/el:20030758
Abstract
[Abstract] We present a new antenna concept - the multi-radial travelling wave line antenna - that achieves a broadband conical radiation pattern suitable for use in multiple C-band wireless computer networks.
Keywords
Antenna radiation patterns
Wireless LAN
Antenna travelling wave arrays
Broadband antennas
Description
This paper is a postprint of a paper submitted to and accepted for publication in journal Electronics Letters and is subject to Institution of Engineering and Technology Copyright. The copy of record is available at IET Digital Library"
Rights
Atribución-NoComercial-SinDerivadas 3.0 España
ISSN
0013-5194