Very Fast Method to Synthesise Conformal Arrays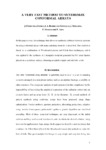 Except where otherwise noted, this item's license is described as Atribución-NoComercial-SinDerivadas 3.0 España
Title
Very Fast Method to Synthesise Conformal Arrays
Author(s)
Date
2007-08-02
Citation
J. Fondevila-Gomez; J.A. Rodriguez-Gonzalez; J. Bregains; E. Moreno; F. Ares "Very fast method to synthesise conformal arrays", Electronics Letters, 856 – 857 Volume: 43, Issue: 16, Aug. 2007. DOI: 10.1049/el:20071543
Abstract
[Abstract] A very fast technique that allows the synthesising of arbitrary footprint patterns by using conformal arrays with many radiating elements is described. This method is based on a combination of Woodward-Lawson and Elliott-Stern techniques, and it was applied to the synthesis of a triangular footprint generated by 657 axial dipoles placed on a cylindrical surface, obtaining acceptable ripple and sidelobe levels.
Keywords
Antenna arrays
Least mean squares methods
Antenna radiation patterns
Conformal antennas
Iterative methods
Description
This paper is a postprint of a paper submitted to and accepted for publication in journal Electronics Letters and is subject to Institution of Engineering and Technology Copyright. The copy of record is available at IET Digital Library"
Rights
Atribución-NoComercial-SinDerivadas 3.0 España
ISSN
0013-5194