Application of Time Modulation in the Synthesis of Sum and Difference Patterns by Using Linear Arrays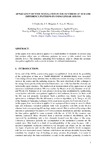 View/Open

Except where otherwise noted, this item's license is described as Atribución-NoComercial-SinDerivadas 3.0 España
Title
Application of Time Modulation in the Synthesis of Sum and Difference Patterns by Using Linear Arrays
Author(s)
Date
2006-05
Citation
Fondevila, J.; Brégains, Julio Claudio; Ares Pena, F. J.; Moreno Piquero, E. "Application of time modulation in the synthesis of sum and difference patterns by using linear arrays", Microwave and Optical Technology Letters, 829–832 Volume: 48, Issue: 5, May. 2006
Abstract
[Abstract] In this paper, time modulation is applied to a small number of elements of a linear array that radiates either sum or difference patterns, in order to take control over their sidelobe levels. The simulated annealing (SA) technique helps to obtain the optimum time pulses applied to such elements in terms of sideband minimization.
Keywords
Antenna array patterns
Time modulated arrays
Pattern synthesis
Description
"This is the peer reviewed version of the following article: Fondevila, J.; Brégains, Julio Claudio; Ares Pena, F. J.; Moreno Piquero, E. "Application of time modulation in the synthesis of sum and difference patterns by using linear arrays", Microwave and Optical Technology Letters, 829–832 Volume: 48, Issue: 5, May. 2006, which has been published in final form at DOI 10.1002/mop.21489. This article may be used for non-commercial purposes in accordance with Wiley Terms and Conditions for Self-Archiving."
Editor version
Rights
Atribución-NoComercial-SinDerivadas 3.0 España
ISSN