A Comparison of Optimization Techniques for Power Patterns with Low Sidelobes Generated by Linear Arrays with Efficient Excitation Distributions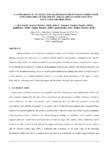 View/Open

Except where otherwise noted, this item's license is described as Atribución-NoComercial-SinDerivadas 3.0 España
Title
A Comparison of Optimization Techniques for Power Patterns with Low Sidelobes Generated by Linear Arrays with Efficient Excitation Distributions
Author(s)
Date
2005-04-05
Citation
S. Kyle Smith; Julio C. Brégains; Kathleen L. Melde; Francisco Ares " comparison of optimization techniques for power patterns with low sidelobes generated by linear arrays with efficient excitation distributions", Microwave and Optical Technology Letters, 57 - 60 Volume: 45, Issue: 1, Apr. 2005
Abstract
[Abstract] Equispaced linear arrays that have uniformly excited central elements and monotonically decreasing flanking segments have been shown to yield low-sidelobe patterns with specified constraints on the effective radiated voltage (ERV). An analytical method for generating these distributions using a constrained least-squares (CLS) method, with restrictions on both the peak amplitude of the elements and the ERV, has been discussed in a previous work. Simulated annealing (SA) is a versatile global-optimization technique that can be effectively used for similar purposes, but can also provide additional control over some other design parameters. In this paper, we inspect both methods—indicating some of their advantages and drawbacks—through some numerical results.
Keywords
Antenna radiation patterns
Linear antenna arrays
Optimization
Adaptive arrays
Description
This is the peer reviewed version of the following article: S. Kyle Smith; Julio C. Brégains; Kathleen L. Melde; Francisco Ares " comparison of optimization techniques for power patterns with low sidelobes generated by linear arrays with efficient excitation distributions", Microwave and Optical Technology Letters, 57 - 60 Volume: 45, Issue: 1, Apr. 2005, which has been published in final form at DOI: 10.1002/mop.20722. This article may be used for non-commercial purposes in accordance with Wiley Terms and Conditions for Self-Archiving."
Editor version
Rights
Atribución-NoComercial-SinDerivadas 3.0 España
ISSN