Evaluación energética de la arquitectura popular :análisis comparado en Galicia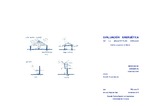 Collections
Title
Evaluación energética de la arquitectura popular :análisis comparado en Galicia
Author(s)
Directors
Raya de Blas, Antonio
Date
2015
Center/Dept./Entity
Universidade da Coruña. Escola Técnica Superior de Arquitectura
Description
Traballo fin de grao (UDC.ETSA). Estudos en arquitectura. Curso 2014/2015
Abstract
Partiendo de las preocupaciones de sostenibilidad y los criterios de confort actuales, este trabajo busca aportar una referencia hacia ciertos aspectos del estudio energético real de las construcciones conservadas actualmente en la arquitectura vernácula gallega. Tras estudiar y sintetizar artículos y bibliografía sobre el tema, se realiza una crítica comparada y puesta en valor de la respuesta energética de los casos de estudio, analizándola con diferentes herramientas de evaluación actuales. Se concluye con una reflexión sobre algunos criterios puestos en duda acerca de la arquitectura popular, como es el criterio de la localización o la inercia térmica, así como reflexionando sobre la validez de la aplicación de los diferentes métodos de análisis y simulación energética en la arquitectura popular.
[Resumo]Partindo das preocupacións de sostenibilidade e dos criterios de confort actuais, este traballo busca aportar unha referencia cara certos aspectos do estudio da resposta enerxética real das construccións conservadas actualmente na arquitectura vernácula en Galicia. Tras estudar e sintetizar artigos e bibliografía sobre a temática, realizase unha crítica comparada e posterior posta en valor da resposta enerxética dos casos de estudo, analizándoa con diferentes ferramentas de evaluación actuais. Conclúese cunha reflexión sobre alguns criterios postos en duda acerca da arquitectura popular como é a localización ou a inercia térmica, así como cuestionando a validez dos diferentes métodos de simulación enerxética na arquitectura popular
[Abstract]Based on the concerns of sustainability and comfort current criteria, this paper aims to provide a reference to certain aspects of the study of the actual energy response of the buildings currently preserved in the vernacular architecture in Galicia. After studying and summarize articles and literature on the subject, a critical and comparative set value is made in the energy response of the case studies, analyzing different current assessment tools. It concludes with a reflection on some criteria doubted about the architecture such as the location or the thermal inertia, as well as questioning the validity of the different methods of energy simulation in architecture.
Keywords
Sostenibilidad
Confort
Arquitectura vernácula gallega
Respuesta energética
Simulación energética
Sostenibilidade
Resposta enerxética
Simulación enerxética
Sustainability
Energy simulation
Rights
Os titulares dos dereitos de propiedade intelectual autorizan a visualización do contido deste traballo a través de Internet, así como a súa reproducción, gravación en soporte informático ou impresión para o seu uso privado e/ou con fins de estudo e de investigación. En nengún caso se permite o uso lucrativo deste documento. Estos dereitos afectan tanto ó resumo do traballo como o seu contido Los titulares de los derechos de propiedad intelectual autorizan la visualización del contenido de este trabajo a través de Internet, así como su repoducción, grabación en soporte informático o impresión para su uso privado o con fines de investigación. En ningún caso se permite el uso lucrativo de este documento. Estos derechos afectan tanto al resumen del trabajo como a su contenido