Proyecto básico y de ejecución de la vivienda unifamiliar Villa Güimil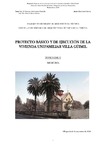 View/Open
Collections
Title
Proyecto básico y de ejecución de la vivienda unifamiliar Villa Güimil
Author(s)
Directors
López Rivadulla, Francisco Javier
Alonso Alonso, Patricia

Date
2016
Center/Dept./Entity
Universidade da Coruña. Escola Universitaria de Arquitectura Técnica
Description
Traballo fin de grao (UDC.EUAT). Arquitectura técnica. Curso 2015/2016.
Abstract
[Resumen] El presente proyecto contempla la rehabilitación de una vivienda unifamiliar de tipología indiana, ubicada en la Avda. Rosalía de Castro nº 38, en la localidad de Villagarcía de Arosa, provincia de Pontevedra, destinada a vivienda unifamiliar, atendiendo las necesidades de confort y conservación del inmueble y respetando su singular estilo arquitectónico y su condición de vivienda protegida a nivel municipal. Se trata de un proyecto básico y de ejecución para llevar a cabo la rehabilitación de la vivienda, de la que debido a un incendio y posterior abandono total, solo se conservan los muros exteriores de la misma. En el proyecto, se intenta preservar la seña de identidad perdida de la vivienda, que es el observatorio octogonal tipo linterna que en su día tuvo la misma, en la intersección de las 4 cumbres de la cubierta de ocho aguas de la edificación. El proyecto incorpora lo necesario para satisfacer las exigencias derivadas del CTE y otras normativas de aplicación.
[Abstract] This project involves the refurbishment of a house of Indian type, located in 38, Rosalía de Castro Avenue, in the town of Villagarcia de Arosa, Pontevedra. This house was build aimed at single family home, meeting the needs of comfort and conservation property and respecting its unique architectural style and status of protection housing to the municipal level. It is a base design and working project to carry out the rehabilitation of housing, which due to a fire and later completely abandoned, only the outer walls of it are preserved. In the project, I try to preserve the sign of identity of housing (lost by the fire), which is the octagonal lantern type observatory that once had the same, at the intersection of the 4 summits waters cover eight of the building. The project incorporates necessary to satisfy the requirements arising from CTE and other applicable regulations.
Keywords
Proyecto básico y de ejecución
Rehabilitación
Villa Güimil
Casas de indianos
Base design and working project
Refurbishment
Rights
Os titulares dos dereitos de propiedade intelectual autorizan a visualización do contido deste traballo a través de Internet, así como a súa reproducción, gravación en soporte informático ou impresión para o seu uso privado e/ou con fins de estudo e de investigación. En nengún caso se permite o uso lucrativo deste documento. Estos dereitos afectan tanto ó resumo do traballo como o seu contido Los titulares de los derechos de propiedad intelectual autorizan la visualización del contenido de este trabajo a través de Internet, así como su repoducción, grabación en soporte informático o impresión para su uso privado o con fines de investigación. En ningún caso se permite el uso lucrativo de este documento. Estos derechos afectan tanto al resumen del trabajo como a su contenido